Increased productivity and reduced environmental impact with Fujifilm's water-washable Flenex FW-L plates lead Romanian flexo printer, Sunimprof Rottaprint, to invest in the new Flenex FW-FP plate.
Founded in 1991, Sunimprof Rottaprint is the largest flexographic printing company producing self-adhesive labels in Romania. It manufactures various label and packaging materials for a variety of industries, including food and beverage, wine and spirits, cosmetics, detergents, home care and healthcare. With its own environmental practices and the timely delivery of high quality products to its customers both essential to its operations, Sunimprof Rottaprint has relied on Fujfilm's Flenex FW-L plates to support its range of flexo applications since 2016. Now, after a successful beta trial of Fujifilm's new Flenex FW-FP plate and SB-928 plate processor, the Sunimprof Rottaprint –Fujifilm partnership is set to continue and grow.
"Our clients have many and varied demands, and we always look to ensure our flexographic solutions are capable of delivering to the standard that they expect of us," says Alin Neag, Prepress Manager at Sunimprof Rottaprint. "Whether it's self-adhesive labels, shrink sleeves, wrap-around labels or flexible packaging, our 268-strong workforce strives to supply the perfect product in the quickest possible time. We place very high value on customer service."
"We also take great pride in being one of the leading flexographic printers in Romania. Most of our customers are domestic, but last year 26% of our turnover was from international business – and we've had a productive first half of 2019 too – our overall turnover has increased by 7% to 11 million Euros."
Sunimprof Rottaprint investment in Fujifilm's Flenex FW-L plate and plate processor has not only helped the business to grow, but also maintain an environmentally friendly operation: "Flenex was our first foray into water-washable plate production and we have been very impressed with the results," continues Neag. "The quality of the printing has been consistently high and no solvents are required during plate production, which means, compared to a solvent based system, processing times are kept to a minimum. Furthermore, with no chemicals involved in Flenex plate production, Sunimprof Rottaprint is able to carry out its flexographic operations in an environmentally friendly way."
Fujifilm's Flenex FW-FP plate, is due for commercial launch in October 2019. With all of the quality benefits of the established FW-L2 plate as well as added solvent resistance, reduced curling effect and a thicker polyester base of 188µm, Neag is impressed with the impact it has made during Sunimprof Rottaprint's beta trial: "We are always looking to see how new products can work in our facilities and help us to continue to provide the most efficient service. The new Flenex FW-FP plate has produced very impressive results and we are now looking to move our entire water-washable plate production over to it."
Neag is also keen to emphasise the long and positive relationship he has had with Fujifilm and with Fujifilm's Romanian distributor Printman: "Since we first invested in Fujifilm's ColorArt hard proofing system back in the 1990s, we have had nothing but positive experiences with their sales and technical staff. Fujifilm and Printman understand our business requirements and are always on hand to provide support and advice on how to use the equipment. I would definitely recommend working with both companies."
Nils Gottfried, Segment Product Marketing Manager at Fujifilm Graphic Systems Europe, says: "We're delighted to see the impact that Fujifilm's flexo plate technology has had on Sunimprof Rottaprint and, following their investment in our new Flenex FW-FP and plate processor, we're looking forward to helping their business to continue to evolve."
For more information on Fujifilm's new and established flexographic products, visit its stand (9A34) at Labelexpo Europe 2019.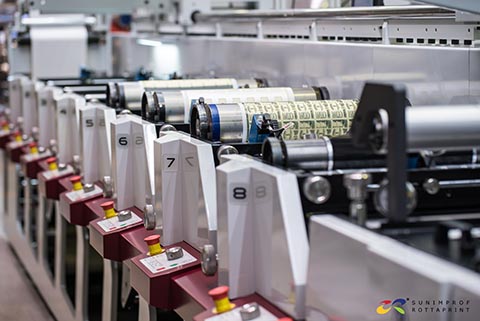 Fujifilm Flenex FW plates in use at Sunimprof Rottaprint.