Electric Vehicle Manufacturer e.GO Mobile AG Opts for Charging Technology from Heidelberg
Wednesday, September 11, 2019
Delivery of e.GO Life First Edition started
Electromobility an increasingly attractive option for consumers
Heidelberg continues to expand electromobility range
e.GO Mobile AG is a German automaker based in Aachen that manufactures small, attractively priced electric vehicles. Established in 2015, the company first unveiled its e.GO Life model in March 2017 at CEBIT. Meanwhile the deliv-ery of the e.GO Life First Edition has started. The charging technology for the small, short haul car, which features a functional range, is a wall-mounted box for home installation. The device is supplied by Heidelberger Druckmaschinen AG (Heidelberg) and is based on the company's own inhouse development, the Heidelberg Wallbox Home Eco.
When e.GO Life buyers order the optional e.GO Wallbox Home charger from e.GO, they will receive Heidelberg charging technology in the e.GO design and with the e.GO logo. Although the device carries the e.GO logo, it runs on Heidelberg power electronics that have been tried and tested in numerous electric vehicles. During the initial phase, approximately 10,000 e.GO vehicles are able to roll off production lines at the newly built plant in Aachen each year. However, the company is planning to double production capacity within a short space of time to around 20,000 vehicles. By that stage, the vehicle will be available in three models. According to estimates, around a third of all car buyers are likely to opt for their own Wallbox.
"Heidelberg is aiming to find more partners for eMobility that will help it achieve rapid growth in this sector. That is why we are pleased to have e.GO Mobile AG as a high-volume customer for the technology in our Wallbox Home Eco," comments Stephan Plenz, member of the Heidelberg Management Board responsible for Digital Technology. "The strategic aim being pursued at Heidelberg – leveraging innovative technologies to achieve success outside its classic core market – is continuing to bear fruit."
"We have total confidence in the performance, reliability, and safety of charging technology from Heidelberg. The product has been designed to make it easier for customers to get started with E-Mobility. As a result, the Heidelberg Wallbox is a perfect match for our company's philosophy," points out Professor Günter Schuh, CEO of e.GO Mobile AG. Schuh was also one of the joint founders of electric vehicle manufacturer StreetScooter, which was established in 2010 and has been a subsidiary of Deutsche Post since 2014.
The Wallbox is a stationary charging device that can be installed on a wall, in a carport, or on a column. The charging power can be adjusted in a range extending to 11 kW. The exceptionally robust design and operation mean no maintenance or servicing is required. Heidelberg sees the Wallbox Home Eco as a basic entry-level model. Additional versions are planned, ranging as far as a premium product with intelligent technology that can also be integrated into smart homes, for example.
In the latest test carried out by ADAC, Germany's largest automobile association, in August 2019, the Heidelberg Wallbox Home Eco came out top with a rating of 1.1. Heidelberg is starting to launch the Wallbox Home Eco step by step in Spain, Italy, France, Austria, Switzerland, the Netherlands, and the UK.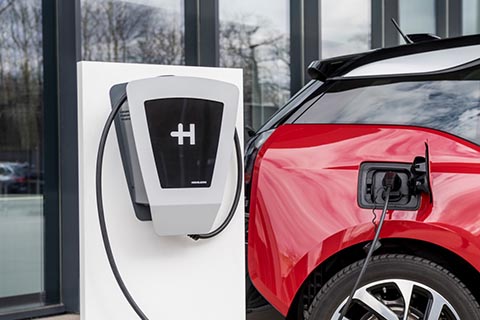 The Heidelberg Wallbox Home Eco is an inexpensive high-performance charging de-vice for electric vehicles. The system is aimed at individuals and also at businesses and local authorities looking to use the charging station to recharge the electric vehicles in their own fleets as well as those of customers and visitors. The e.GO Life will also be using charging technology from Heidelberg.