North America Pressure Sensitive Adhesives Market Is Set to Surpass US$2bn by 2024
Tuesday, September 10, 2019
According to a new research report by GMI, Pressure Sensitive Adhesives Market size to exceed USD 9.5 billion by 2024. An innate vertical of the polymers space, pressure sensitive adhesives market has lately established itself as quite a lucrative business space in the overall adhesives domain. Undeniably, this growth can be credited to the fact that this product is one of the most recognized adhesive due to its ability to generate an instant bond under light pressure without the requirement of any activation provided by solvents, heat, or water.

Pressure sensitive adhesives are apt at permanently fusing dissimilar materials with the resultant cohesive bond being so strong, that it does not easily fall apart. In consequence, pressure sensitive adhesives industry has witnessed tremendous growth over the years, through the product's usage in labels and tapes across the automotive, packaging, electronics, and healthcare sectors. The ease of use, convenience, and cost effectiveness of the product have further contributed toward making pressure sensitive adhesives market a rather viable investment ground.

Request for a sample of this report @ https://www.gminsights.com/request-sample/detail/2385

According to the performance of pressure sensitive adhesives, different adhesives are used for different industries. The packaging industry widely uses weaker pressure sensitive adhesives because of the convenience the product offers coupled with the attraction it adds to the package without damaging its visual appeal. As pressure sensitive adhesives do not require heat for application, are less intrusive with brand image, instantly bond, and are compatible with numerous substrates, pressure sensitive adhesives market outlook has witnessed a major change of dynamics from the packaging sector.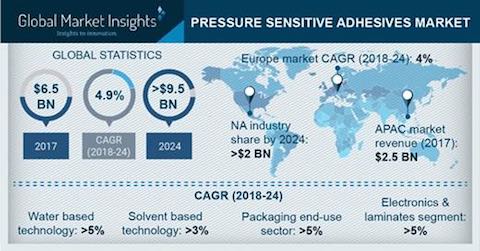 Besides packaging, the automotive and transportation industry has also largely adopted pressure sensitive adhesives because of its favorable properties such as compatibility with a host of substrates, maintenance of integrity during automated processes, less time consumption, and assistance in eliminating the process of drilling and mechanical fastening. The large expanse of automotive industry has inevitably provided a huge profit base for pressure sensitive adhesives market.

North America has emerged as one of the most reliable and lucrative growth grounds for the overall pressure sensitive adhesives market. One of the pivotal reasons responsible for the growth of the regional industry is the expansion of the packaging sector in the continent, specifically across the United States. As per statistics provided by the Flexible Packaging Association, the U.S. recorded sales worth over USD 30 billion for the flexible packaging industry in the year 2014. Indeed, flexible packaging had then been touted to be the second largest packaging segment in the United States, with a registered share of 19% of the U.S. packaging market, that had been proclaimed by analysts to have been valued at somewhere over USD 162 billion back then.

Driven by the robust deployment of these adhesives in the packaging sector, in addition to the availability of myriad technology types and products, North America pressure sensitive adhesives market size is all set to surpass USD 2 billion by 2024.

Browse key industry insights @ https://www.gminsights.com/industry-analysis/pressure-sensitive-adhesives-market

Technological developments have provided a major impetus to pressure sensitive adhesives market. For instance, since the automotive industry requires adhesives that can resist extreme heat, pivotal pressure sensitive adhesives industry firms have conducted numerous R&D programs to come up with a new, unique product. This adhesive is a high temperature resistant acrylic pressure sensitive adhesive that can withstand temperature of up to 400°F as compared to other acrylic pressure sensitive adhesives that can withstand temperatures of only up to 325°F.
By Technology
Water-based
Solvent-based
Hot melt
UV-cured
Product by Application
Rubber-based
Tapes
Labels
Graphics
Films & Laminates
Others
Acrylic
Tapes
Labels
Graphics
Films & Laminates
Others
Silicone
Tapes
Labels
Graphics
Films & Laminates
Others
Others
Tapes
Labels
Graphics
Films & Laminates
Others
By Application
Tapes
Labels
Graphics
Films & Laminates
Others
By End-user
Food & Beverage
Packaging
Electronics & Laminates
Medical & Healthcare
Building & Construction
Automotive & Transportation
Others