Contiweb to Highlight Cost Efficient Fluid Applicator at PRINT 19
Tuesday, September 10, 2019
Press release from the issuing company
Contiweb, a specialist in state-of-the-art technologies for printing, advanced drying and web-handling, today announces that it will demonstrate how print providers can unlock huge savings and overcome the rising cost of silicone prices imposed by manufacturers using its Contiweb Fluid Applicator (CFA) at PRINT 19.
Visitors to the booth (#2511) will discover how silicone consumption can be reduced by more than 80 percent. Chuck Irons, Vice President of the Americas at Contiweb explains: "Conventional systems use a ready-made silicone emulsion which can prove expensive. The CFA is engineered to use pure silicone oil, which is mixed with a suitable amount of water and surfactant before being applied.
"This emulsion contains large drops of oil which are slowly absorbed by the substrate compared to the fine droplets of a ready-made silicone solution. This means that less silicone oil is required to achieve a good lubrication, streamlining container silicone consumption by over eighty percent in some cases."
The CFA system offers a substantial financial gain as it reduces raw material costs. With the current cost of silicone, savings are more than 60 percent.
Enhancing Print Quality
Attendees will also learn how the CFA can enhance print quality. Traditionally, print providers have two separate devices in each press line – one to apply the silicone and the other to remoisten the substrate. The CFA is a standalone system that combines both silicone application and remoistening in one. This provides companies with greater remoistening control, ensuring that the final product regains moisture and does not distort from absorbing it from the environment.
This overcomes common quality issues such as growth of cut books, where the pages do not line up with the cover, page turn-over of short grain books, where the spine of the booklet creases, or page curling. The CFA also uses tap water, instead of expensive conditioned water. This ensures that consumable costs are kept to a minimum, allowing print providers to expand their profit margins.
Irons concludes: "PRINT 19 is the ideal platform to showcase the substantial production efficiencies and quality enhancement that print providers can secure with our diverse portfolio. This includes cost savings and quality enhancements generated by the CFA to reducing downtime with our added-value 24/7 global technical support. Our advanced solutions provide companies with the tools to improve their operations and safeguard their businesses against intense competition."
See Contiweb at PRINT 19 on booth #2511, at McCormick Place North, Chicago, from October 3-5.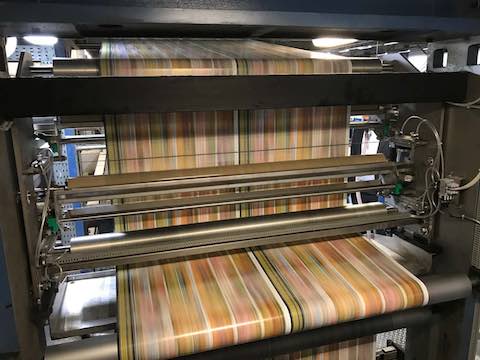 Visitors to PRINT 19 will discover how silicone consumption can be reduced by more than 80 percent with the Contiweb CFA.
To post a comment Log In or Become a Member, doing so is simple and free