Toppan Presents VR-enabled Remote Experiences of Japanese History and Culture at IFA
Thursday, September 05, 2019
Press release from the issuing company
VR used in conjunction with 5G communication for unique tours of historic sites and remote teaching of traditional dance
Tokyo – Toppan Printing (Toppan), a global leader in communication, packaging, décor materials, and electronics solutions, will be participating in the IFA NEXT showcase at IFA 2019 (https://www.ifa-berlin.com), the world's leading trade show for consumer electronics and home appliances, held at Messe Berlin in Germany from September 6 to 11. Toppan will present virtual reality (VR) solutions including high-definition reconstruction of historical sites and remote interactive teaching of traditional Japanese dance.
With 5G communication being introduced in locations around the world and widespread use anticipated in the future, Toppan will demonstrate how it can be combined with VR to enable immersive experiences of Japanese traditional culture to people in distant locations.
One example is a system combining high-definition VR with a three-screen display that surrounds viewers to put them right in the middle of virtual reconstructions of famous historical sites in Japan. Such a system can allow viewers in distant locations to enjoy virtual tours of Japanese castles, temples, and more, with a level of detail and sense of realism that faithfully simulate the experience of being at the location itself.
Toppan will also be presenting a new communication experience in which avatars of a dance teacher and participants in distant locations are generated in real time in a virtual space to enable users to enjoy Bon Odori, a traditional dance performed at Bon Festivals in the summer in Japan. Motion sensing is used to capture the movements of the teacher and participants, which are then reflected in real time in the movements of the avatars in the virtual space. Users can therefore follow the movements of the teacher to learn the dance and experience the world of Japanese festivals.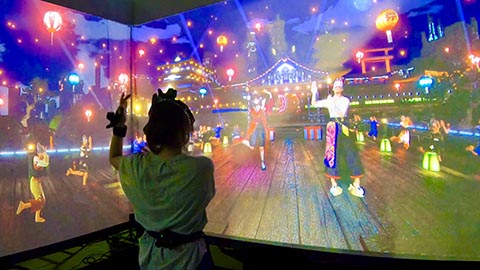 A user learns traditional Japanese dance in a virtual space from a teacher in a distant location.
Visitors to IFA will be able to experience Toppan's technologies in the Japan booth at the IFA NEXT showcase.
To post a comment Log In or Become a Member, doing so is simple and free