Label AutoMounter and manual solutions expected to draw efficiency hunters to Brussels, Booth 7D33

Manchester, UK – Following its clean sweep at Labelexpo Americas last year, JM Heaford, industry-leading supplier of mounting and proofing solutions for the tag and label, flexible packaging, corrugated and gravure markets, is planning for another successful Labelexpo show in Brussels (September 24-27). Having sold all three mounters off the stand in Chicago last September, the company anticipates similar interest for its scalable range of productivity boosters in Europe.

Heaford's showcase product on Labelexpo Stand 7D33 is once again its Label AutoMounter which mounts any plate in less than one minute with an accuracy of five microns. The automated processes of the AutoMounter eliminate the need for skilled operators and make it an ideal solution for larger label producers running round-the-clock with multiple presses. Consistent plate mounting is maintained via a simple, multi-lingual graphic interface, and the system can store and recall over 100,000 jobs.

For Martin EZ Stick Labels, the company who bought the AutoMounter at Labelexpo 2018, the key requirement was a production system that could easily serve its new state-of-the-art hybrid press. The company currently averages between 40 and 60 plate changes per day and, since installing the Heaford Label AutoMounter, has reduced plate changeover time by 75%. "We have never needed to remount a plate yet. And because we have a number of repeat jobs, we also save more time through not having to input job data repeatedly as it stores all the details in a database," says Richard Martinez, Owner of EZ Stick Labels. "We really are beyond happy with the machine. JM Heaford are masters of their craft. You get what you pay for …and then some!"

The Heaford stand at Labelexpo will also feature the best-selling Heaford FTS plate mounter, which offers speed, easy operation and repeatable accuracy through semi-automation. A reputation for fast Return on Investment has delivered industry-leading sales success for the FTS in recent years. At Labelexpo Europe, three FTS mounters – two for cylinder and one sleeve dedicated – will be exhibited with options including pre-register systems, precision plate cutter, rotary plate cutter, pivoting tape applicator and fixed/rear tape applicator options. The Heaford team at Labelexpo will be on hand with evidence of how savings on press downtime and labour costs are giving customers payback on purchases within a few months.

Completing the offerings at the Show is the entry-level EES plate mounter, proposed for start-ups and those looking for the next step up in mounting speed and precision. Designed with the same emphasis on build quality, accuracy and longevity for which Heaford equipment is renowned, it minimises press downtime by eliminating the unreliable practice of mounting "by eye".

"Labelexpo continues to be a unique and unmissable opportunity for JM Heaford to showcase the extent of our solutions to an ever-widening audience," comments Sally-Anne Heaford, Managing Director of JM Heaford. "The breadth of production and technical requirements among international visitors makes it the perfect event to highlight the efficiency gains available for every size of company, whatever their level of technology. Each Heaford system is designed with one over-arching goal: to deliver the maximum ease-of-use, accuracy and repeatability in their class. But you don't just need to take our word for it; ask us about user experience in any corner of the global market and we can point to another satisfied customer and the Heaford system they would never be without."

JM Heaford team members and partners representing all global markets are available throughout the four-day show to meet customers, conduct demonstrations, and discuss with interested parties the gains to be made from investing in Heaford systems.

For more information, go to www.jmheaford.com or email sales@jmheaford.co.uk.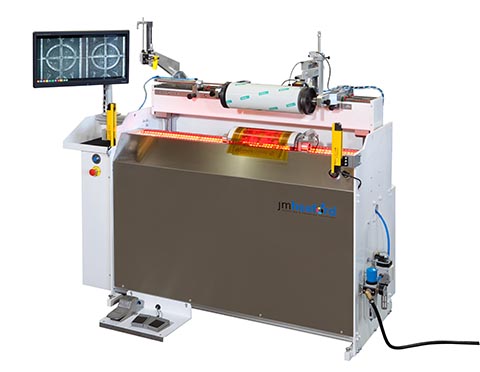 Heaford's showcase product at Labelexpo (7D33) is its Label AutoMounter which has delivered an overall reduction in plate changing time of around 75 percent for Martin E-Z Stick Labels of Santa Fe Springs (CA.), USA.