All4Labels – Global Packaging Group Invests in Conventional Narrow Web Printing Press
Tuesday, August 06, 2019
Press release from the issuing company
Gallus Labelmaster for efficient tube laminate print production
St.Gallen – Improving the productivity of tube laminates while reducing waste were the main reasons for All4Labels – Global Packaging Group for investing in a new narrow web printing press. For the second time the German label printing group chooses a Gallus Labelmaster Advanced, a flexo label press which enables a high productivity and print quality as well as process flexibility.
Installed in January 2019 the 10-colour conventional printing press is a modular production line for narrow web products, fully equipped with ten flexo printing units. The operator can use these flexo printing units either for colour printing, cold-foil or varnishing depending on the customer-specific requirements. As the line includes a cold-foil unit producing high-value and specially designed narrow web products for the label and flexible packaging market is no problem at all.
"Because of our very good experiences with the first Gallus Labelmaster, installed at All4Labels Schweiz in October 2016, we decided for this modular label press at our production site in Lübbecke", says Matthias Michel, Plant Manager at All4Labels Lübbecke. Decisive for another Labelmaster were especially the short web path (material cost savings), the automatic register control in longitudinal and transverse direction as well as the higher-quality corona surface treatment. These ensure a significant improvement in the registration quality and optimum color retention. Choosing a Gallus press means also, to be sure to invest in a future-proof press with a robust design and reliably high print quality.
Efficient production of pressure-sensitive labels and tube laminates
"Due to short set up times and the high printing speeds of our new conventional printing press by Gallus we were able to increase our overall productivity significantly", explains Matthias Michel, Plant Manager at All4Labels Lübbecke.
With printing speeds up to 200 m/min (656 ft/min), a printing width of 440 mm (17.3") the Gallus Labelmaster Advanced is suitable for running a broad range of substrates. While All4Labels Schweiz is using this line especially for the printing of pressure-sensitive labels, tube laminates are produced at this line at All4Labels Lübbecke. Precise and stable register accuracy complements the modular and cost-efficient narrow web press.
"A further benefit of the Labelmaster we see in the ecological side: we save an impressive amount of production waste due to the short web path of only 1.4 metre between printing cylinders. This means that we now have less waste, subsequently lowered our costs for substrates as well as for waste disposal", Matthias Michel further explains.
All4Labels – Global Packaging Group
All4Labels – Global Packaging Group is one of the world´s leading label companies and a market leader in digital printing solutions. It serves local and multinational companies across all industries, offering the most innovative solutions of the sector in a one-stop-shop concept; its portfolio is completed by the company's packaging solutions in the Flexibles, Sleeves, Folding Boxes, Smart and Security Technologies areas. The owner led group sets its footprints in the key growth areas of its customers, being a strong partner through a global network of 29 production sites and more than 3000 employees.
Jens Nilsson, Managing Director Europe, summarises: "All in all, we are happy to be able to increase our productivity as well as lowering our production waste by installing a second Gallus Labelmaster Advanced 440. For sure, it will be not the last Gallus Labelmaster label press for the All4Labels Group."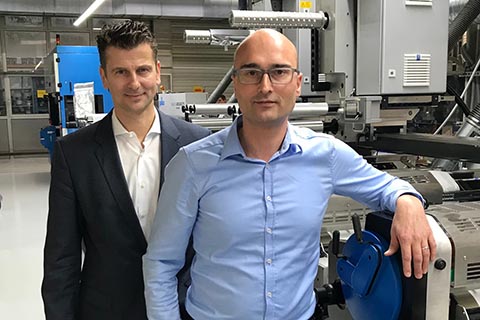 From left to right: Michael Koch (Gallus) with Matthias Michel (All4Labels, Lübbecke) in front of the new Gallus Labelmaster Advanced.
To post a comment Log In or Become a Member, doing so is simple and free