Auto Industry Leader to Head up UV Curing's Integration Technology Limited
Thursday, August 01, 2019
Press release from the issuing company
Simon Roberts has been appointed managing director at British UV curing developer, Integration Technology.
He takes on day-to-day operational responsibility for managing the Oxfordshire-based business, working alongside founder Adrian Lockwood who remains as chief executive.
An experienced business leader, Simon Roberts was formerly managing director of Antonov Automotive Ltd. He has led business development and strategy for Tata Motors UK as well as product group and business development for Ricardo UK.
His core skills span technical consultancy services, software, engineered products and capital equipment, new product development and the commercialisation of engineered products.
"Simon's expertise greatly complements the existing broad depth of industry and technical knowledge residing within the current team," says Lockwood, now working specifically on high level strategic planning for Integration Technology and supporting parent company, IST Group.
"It was a positive decision to appoint someone from outside of the digital or UV industry to this post, and he brings fresh thinking and leadership skills to assure the next stage in our growth."
Simon Roberts adds: "I am excited to be playing a major role in the development of one of the market's most innovative developers alongside such an experienced management team."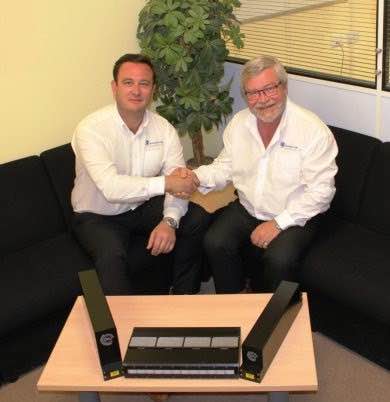 Left to right: Integration Technology Ltd incoming managing director Simon Roberts with chief executive Adrian Lockwood.
To post a comment Log In or Become a Member, doing so is simple and free