Harty Integrated Solutions Transforms Operations with an HP Indigo 7900
Monday, July 22, 2019
Press release from the issuing company
Harty reinvents printing for health insurance, insurance, financial services, nonprofit, education and brand marketers to give them a competitive advantage with the latest in digital printing innovation.

New Haven, Conn. – Harty Integrated Solutions today announced that they have installed an HP Indigo 7900 digital printing system.

Harty was founded in 1900 and still serves its original client. Its purpose is to build long-term, win-win relationships by fueling clients' growth through an integrated marketing strategy and execution in the marketplace. This is accomplished through the utilization of printed marketing collateral, direct mail, email, personalized web sites and the benefits of the tracking capabilities of each marketing channel. Today, the company has made a significant investment in both its future and its clients by installing the HP Indigo 7900.

From high-quality personalized direct mail and marketing collateral, to custom labels and packaging, Harty Integrated Solutions – along with HP digital printing technologies ­– makes it possible to cut through the information clutter with targeted communications that make marketing more meaningful and generate higher returns on investment.

The HP Indigo 7900 press using HP Indigo ElectroInk opens the door to new applications with digital enhancements including custom-mixed special colors, white, photo and fluorescent colors – all with the ability to customize and personalize every page. This press also has a heavy stock upgrade and is able to print on substrates up to 18 point.

"We're excited about the capabilities that our new HP Indigo 7900 will allow us to bring to our customers," said George Platt, president, Harty Integrated Solutions. "We believe in the power of print and its unique ability to attract, captivate, and inspire. We can't wait to show our current and new clients the amazing new capabilities that we can bring to their projects."

For more information about Harty Integrated Solutions and to see examples of how they can help you use digital printing technology to put "WOW" into your next project, contact Kevin Platt, 203-562-5112 ext. 129, or kplatt@hartynet.com.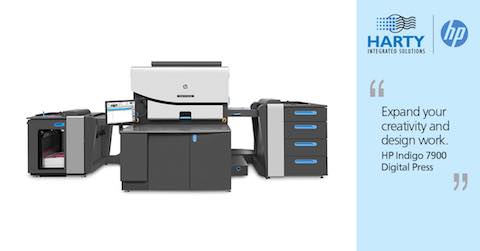 To post a comment Log In or Become a Member, doing so is simple and free