Special Service Partners Unveils New Logo
Wednesday, December 21, 2016
Press release from the issuing company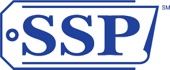 Midlothian, TX - Special Service Partners (SSP), a subsidiary of Ennis, Inc. located in Neenah, WI, introduces their new logo today. Changing from the diamond to the tag/label combination is a strong representation of their specialization in tag and label solutions. You will soon see the new design on various company assets including all advertising and their website.
One solution, available in early 2017, is a website for distributors where orders can be placed online for stock tags. This site will eventually evolve to be a full SelfService portal that will add functionality to place easy reorders, real-time order updates, allow distributors to view invoices and pay online by eCheck or credit card.
Special Service Partners has been in the printing business more than 45 years, and has developed a reputation of offering a quality product at a fair price. SSP was acquired by Ennis, Inc. on December 31, 2014. You can reach SSP for quotes and orders at 800.558.6443.
To post a comment Log In or Become a Member, doing so is simple and free