HP Establishes Memorial Scholarship for Burt Scherman, Founder and President, SCI
Thursday, January 28, 2016
Press release from the issuing company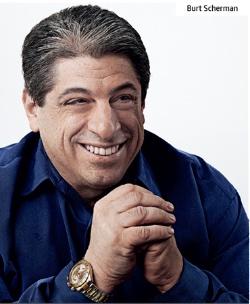 Burt Scherman was founder and president of Strategic Content Imaging (SCI). He was a visionary leader who embodied the entrepreneurial spirit to the fullest. An engineer by training, he began his career at HP and saw opportunity in the emergence of personal computers as a vehicle for transforming the printing industry. An early adopter in the prepress operations market, Burt founded a successful early-stage film imaging business, which he eventually sold to industry leader AGT. Burt also led SCI to become one of the early pioneers in digitally printed books.
To those who knew him, Burt was more than a smart, technically-skilled printer. He was a master motivator who found a way to squeeze every ounce of effort from his staff without yelling or screaming, but with food, a supportive smile and a sense of pride in what SCI was and could be. To his co-workers, Burt was a friend who could always coax a laugh out of anyone at any time. He was a visionary and an innovator, but above all, he was a warm, likeable, gentle man. Burt is sorely missed by his family, friends, colleagues, and all those whose lives he touched in our community.
To celebrate Burt's life and honor his innovative and forward-thinking spirit, HP has established the Burt Scherman Memorial Scholarship fund. This scholarship is offered to talented university students pursuing degrees in graphic communications and careers in the printing industry. To make a tax-deductible contribution to this scholarship, please click here or contact Brenda Kai at 817-849-1145 or brenda.kai@edsf.org.
Brenda Kai, EDSF executive director added that, "We are proud to administer this scholarship on behalf of HP and help Burt's legacy live on in the next generation." The Burt Scherman Scholarship will be awarded in July 2016 to an outstanding full-time student committed to pursuing a career in the printing industry.
Eligibility
To be eligible for the Burt Scherman Memorial scholarship, students must have the following:
Pursuing degrees in graphic communications and careers in the printing industry
Minimum 3.0 cumulative GPA on a 4.0 scale
Full-time undergraduate student attending an accedited college or university anywhere in the world as of the Fall 2016 semester
International students may apply
Click here for a scholarship application.
Criteria
Scholarships are based on a combination of the following: scholastic achievement, application essays, participation in school activities, community service, honors and organizational affiliations, education objectives and academic and professional recommendations.
To post a comment Log In or Become a Member, doing so is simple and free