Service & Print Group Haberbeck invests in Ricoh Pro VC60000
Thursday, December 17, 2015
Press release from the issuing company
London – Service & Print Group Haberbeck, a leading print services provider headquartered in Ostwestfalen Lippe, Germany, has made a strategically significant investment in the extension of their digital print infrastructure. This investment is an important milestone in the strategic approach to transform its business towards a highly individual print and non-print media production. To further extend its existing digital cut sheet print infrastructure, the company has now acquired the digital continuous feed inkjet platform Ricoh Pro VC60000. And to realise significant productivity and automation benefits, it has also invested in Ricoh ProcessDirector workflow software.
Bernd-Hartmut Paulsen, main shareholder of Service & Print Group Haberbeck, says: "We set very clear quality standards for this new production printing technology. After more than three years of intense market research, we can now confirm reaching our goal, which is to be able to offer our customers already today the standards of tomorrow, on every type of material, enabling them to stay ahead of their competitors. This investment is a true milestone for us. Ricoh's new technology perfectly fits into the service portfolio of Service & Print Group Haberbeck. The Pro VC60000 offers a choice of materials and print quality similar to that of offset, but with a considerably wider variety. As a result, our customer offerings and services will become even more agile."
Service & Print Group Haberbeck uses its Pro VC60000 system principally for the production of partly and fully personalised brochures, inserts, direct mailings and catalogues for clients within the automotive, textile, jewellery, shoe and retail industries. "Our quality standards are very high," Paulsen points out. "We have decided to partner with Ricoh because their holistic approach and sophisticated technology concept have convinced us all along the line. On the one hand, the Ricoh Pro VC60000 offers the best inkjet print quality on the widest range of materials. On the other hand, the seamless integration of production technology and software components into our existing production workflows, together with the existing tools and our new marketing platform, enables us to work with high volumes, an impressive performance and just in time from the very start with the help of automation. All in all, this is the perfect solution for print-on-demand production printing."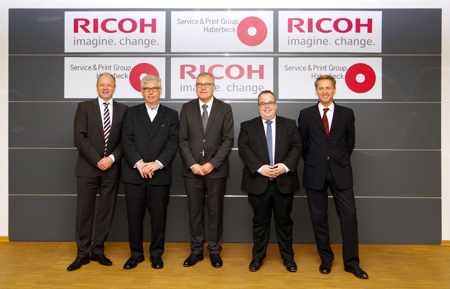 Pictured left to right: Wolfgang Gans, Ricoh Europe, Bernd-Hartmut Paulsen, Service & Print Group Haberbeck (SPGH), Bernd Windmann, Geschäftsführender Gesellschafter SPGH, Christian Haneke, Leitung one-to-one service+print SPGH, Michael Ehrhart, Ricoh Germany.
With the Pro VC60000, Ricoh has set new standards for continuous feed inkjet printing for the commercial printing industry. Developed to fulfil the ever growing demand for commercial short run print, mail and book production, the platform offers a wide choice of materials with outstanding print quality and productivity similar to cut sheet offset production printing.
Graham Moore, Director, Business Development, Ricoh Europe, adds: "We are very pleased that the Service & Print Group Haberbeck, one of the leading full service commercial print providers, chose Ricoh for our technology and performance. Many print service providers are
facing the challenge of transforming their production workflows to offer shorter runs and delivery times, but without having to compromise on media choice or on print quality familiar from offset production. The Pro VC60000 is the technology to meet these demands. In order to manage this digital transformation quickly and safely, a print service provider needs a technology partner who integrates these technologies into existing workflows and takes care of everything from planning, financing, and implementation to business development support and full 24/7 service. This is what Ricoh delivers."
To post a comment Log In or Become a Member, doing so is simple and free