Ricoh's Customer Experience Centre expands as demand grows
Thursday, December 10, 2015
Press release from the issuing company
Ricoh Europe – As further evidence of its continuing commitment to the European production printing market and its client-centric ethos, Ricoh Europe is announcing its plans for a new executive reception and briefing centre as part of its European Centre of Excellence for production printing, the Customer Experience Centre (CEC) in Telford, UK. This is planned to open in Summer 2016.
In its first year, Ricoh's Customer Experience Centre hosted several product launches, plus many hundreds of visitors who came for demonstrations and executive briefings, plus events for dealers, publishers and industry associations. This state-of-the-art print production centre of excellence features integrated solutions from Ricoh and its partners. It was established to enable leaders from the graphic arts sectors to see a variety of end-to-end workflows and production processes first-hand as they might exist in their own production environment.
Knowledge exploration
"It is fantastic to see the value of the Customer Experience Centre in showcasing our multi-platform manufacturing and solutions excellence but also in creating productive discussions with our clients," explains Benoit Chatelard, Vice President, Production Printing Business Group, Ricoh Europe. "The working environment allows visitors to focus on the elements of their operation that require expert assessment. But at the same time, it allows them to see how other aspects of their business can be supported. After opening the facility, we soon realised we would have to expand our meeting and presentation facilities to meet the growing demand for visits to Telford from senior figures within our industry. The new briefing centre will open in Spring 2016 and will enhance the customer experience still further."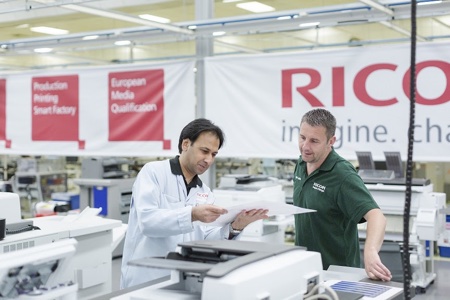 Kingswood iOptus is a printing and legal document services firm located in the City of London. Director, Robert Long said: "Before my purchase of a Pro C9110 colour cut sheet system I visited the Ricoh Customer Experience Centre where I found the opportunity to gauge Ricoh's commitment to the graphic arts industry and to test the model within a working print factory environment extremely useful; and key to my decision to invest."
Service & Print Group Haberbeck, a German full service provider focused on marketing consulting, software development, print production and fulfilment also shared their experience of the Customer Experience Centre: "In addition to live impressions of new Ricoh production systems, discussions on software and professional services to establish an all-encompassing production and cross-media workflow were highly interesting: examples are Avanti Slingshot and Clickable Paper. Our visit was rounded off with insights into future business areas such as 3D printing."
Sampling success
During its first year, thousands of print samples have been produced at the CEC for continuous feed clients on both the Ricoh InfoprintTM 5000 and the Ricoh Pro™ VC60000, plus wide format and cut sheet samples too.
A highlight of the year was the progress made by Ricoh's European Media Qualification Programme.
Adding to an already comprehensive list of qualified media, testing of hundreds of different types of media has been completed, and Ricoh is also beginning to apply its considerable experience in high speed ink jet technology to continuous feed media qualification.
Operating as a knowledge, test, research and development, as well as proof of concept, centre, the CEC showcases Ricoh's specialist inkjet development laboratory and enables the continual assessment of its solutions portfolio. There have also been investments in Techkon's SpectroDens spectro-densitometer, Colour Think Pro's specialist colour management software and Bodoni's PressSIGN Pro V7 colour verification tool. The next step is for the centre to become ISO12647 certified for the colour management standard.
Since the opening, Ricoh's Lean & Green Manufacturing Consultancy Services team has worked with various companies, including Ivor Solution, who re-engineered its business card process, creating additional value and prompting further Ricoh investment.
Ricoh partners have also used the centre to jointly develop effective integration of solutions. Among them was the beta testing for Kodak PRINERGY and Heidelberg Prinect workflows for integration into the TotalFlow R60 and R60A print server. Heidelberg Director Robert Crooker comments, "We are in good hands with respect to the capabilities at Telford, and we are grateful for Ricoh's commitment and capacity to support us in special areas such as the Prinect DFE build-up."
One of the important functions of the CEC is to work with global Research and Development teams in Tokyo and Boulder, Colorado to provide feedback on Ricoh's product range and help to define future client requirements. Feedback on the performance of Ricoh's products helps to improve print quality and leads to product enhancements. The CEC also installs updates and modifications for machines that are already in the supply chain to ensure they are delivered to clients to the very latest specification. Successful ongoing projects include the development of the European version of Avanti Slingshot.
Future improvements
Chatelard concludes, "The first year was a great success and we have learned a great deal as well. The CEC is the jewel in Ricoh's European crown but we will continue to strengthen its capabilities and the experience our visitors can expect. A visit to the CEC should be a chance to evaluate new worlds of opportunity, helping print service providers to make the best decisions for their business based on where it is now and where it is heading."
To post a comment Log In or Become a Member, doing so is simple and free