HEXIS UK Ltd. announces stunning new range of Super Chrome cast films for temporary vehicle wrapping applications
Tuesday, September 08, 2015
Press release from the issuing company
Lichfield, UK - HEXIS UK Ltd., the exclusive UK distributor of HEXIS S.A.'s full range of films and media for professional signage, vehicle marking, visual communication and surface protection applications, has announced a new range of cast films branded HX30000 Super Chrome.
Available in seven colours – red, purple, green, blue, titanium, silver and gold – this 90µm high performance film has a high gloss surface finish with a mirror effect and has been specifically developed for stunning temporary vehicle wrapping applications.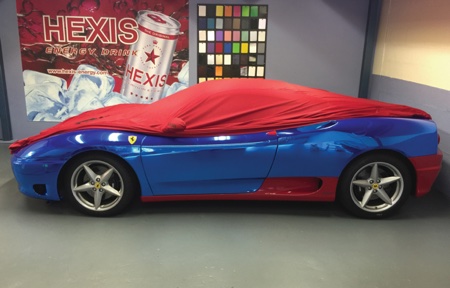 On the introduction of the striking new range of films, Scott Wilkins, Managing Director of HEXIS UK Ltd., comments: "Our new Super Chrome films have a finish like no other conformable chrome; as one of our customers put it: 'It really is a super chrome – and not a back-of-the-spoon chrome!'"
Scott Wilkins continues: "HEXIS has taken several years to develop the new Super Chrome to make sure that vehicle wrappers can use the product in a similar way to normal wrap films. Premium wrapping companies with exceptional high end/celebrity-style clients will be able to use this film to create eye catching and stunning vehicle wraps that will enhance the look of any vehicle."
HX30000 Super Chrome consists of multi-layered cast, a clear surface protection liner for a perfect clarity finish and a structured HEX'Press silicone liner. The HEX'Press solvent acrylic adhesive technology enables the applicator to apply the film in a quick, efficient and bubble free finish.
Courtesy of its high technical performance and conformability, Super Chrome can be used on the curved or textured surfaces (including weldings and rivets) of almost all types of vehicles. Under standard Central European outdoor vertical exposure conditions, Super Chrome is durable for one to two years, depending upon colour and location.
Super Chrome films should be applied according to the dry application method using a squeegee covered with an unused felt sheet. The HEX'Press technology allows easy repositioning of the vinyl on the substrate during application.
Pricing and Availability
HEXIS Super Chrome is available in the UK and Ireland in all stock colours from HEXIS UK Ltd. with immediate effect. Available in 1370mm wide rolls, pricing starts from £579.90 for a 10m roll.
For the full application guide and technical data sheet, please visit http://www.hexis-graphics.com/en/products/view/439.
To post a comment Log In or Become a Member, doing so is simple and free