Fine Line Graphics Impacts Bottom Line with Colter & Peterson and Komori
Tuesday, September 01, 2015
Press release from the issuing company
Paterson, NJ – Jim Basch understands numbers. He served as VP of Operations/Chief Financial Officer at Fine Line Graphics www.finelinegraphics.com in Columbus, Ohio before buying the company with Greg Davis eight years ago. Sensing an opportunity to transform their business, Basch followed installation of a new Komori GL40 press in March by adding Colter & Peterson's technology laden Saber® X15 paper cutter with Microcut™ in June, a decision that has sent production levels through the roof.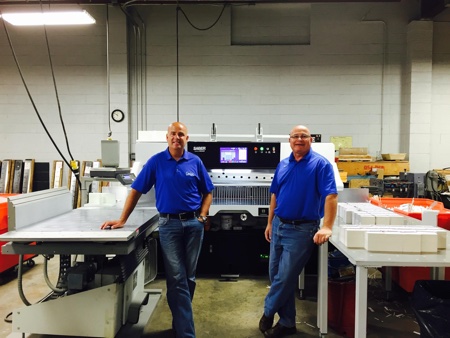 Basch originally hatched the plan three years ago when he first saw the GL40 at a trade show. By the time he attended Graph Expo in Chicago last year, he had placed the order knowing that Fine Line would need to increase their throughput on the back end to keep up with the new press. A stop at C&P's booth during the show led to Basch learning about the technology advancements with papers cutters, including the Microcut system and its CIP ¾ file capability where programs can be uploaded quickly from a network or with a USB device.
"The CIP files transmit the data and automates the cutting set-up. With our old cutter it required 30 minutes of set-up time, but now its 5 minutes after bringing our cutting needs up to today's standards," said Basch, who joined Fine Line in 1991 and acknowledged the company's cutting situation had not been addressed since 1986. "Labor time is our enemy, but the press and X15 combined now do the level of work in 12 hours what used to take 36 hours."
Basch indicated Fine Line has plenty of work and they are using the Saber X15 two shifts a day, five days a week. The majority of it is general commercial printing; 90% of their customer base is within a three hour radius of Columbus by truck, although Basch notes they do ship all over the world.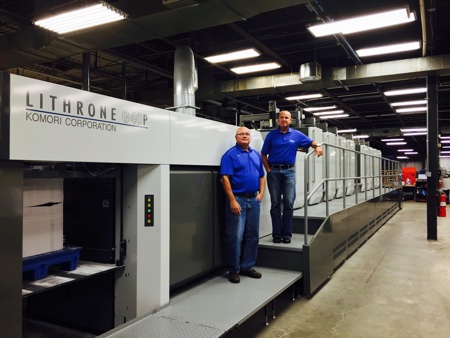 Fine Line's purchase of the 54" Saber X15 is the result of a partnership between the KomoriKare program of Komori America Corporation, and Colter & Peterson, North America's largest independent distributor of paper cutters and paper handling equipment. It was supposed to be installed at the same time as the 8-color perfector press in March, but delivery was delayed until June due to the back-up caused by the longshoreman's strike on the west coast.
"The delay gave us time to learn about the GL40 press and become G7 certified. The press is fantastic in so many ways, including faster make-ready and plate hanging capability," reflected Basch, whose company employs 47 people and occupies a 32,000 square foot building on the west side of Columbus.
"The press uses hybrid UV inks that are more environmentally friendly and in line with our company philosophy. With two light sources it requires less energy and eliminates the ozone that comes off traditional presses. The biggest difference is the finished product. It's like comparing an older television set against today's High Definition models. We're now printing in Hi Def."
Fine Line's Saber X15 is the perfect complement to helping improve their turnaround time. That's huge since Basch says the majority of their work is now in-and-out of the shop in less than 48 to 72 hours. Manufactured to ISO-9001 standards, the Saber X15 sports a new hydraulic system and cut optimization, as well as new automatic knife adjustment. The popular and automated Microcut system includes cutting edge technology with 15-inch wide format color touch screen programming and control panel, plus key safety features.
"We had issues with our older and smaller cutter that would have cost thousands to repair. It was fine mechanically but it would not talk to any of our equipment. We realized we needed a larger cutter for efficiency purposes and bring our cutting area into the 21st century. The Saber X15 has made that a reality. With the saved time, we have repurposed our staff into other areas of our operation. It's hard to find and keep good people in our industry, but with the new press and cutter, we often print, cut and fold all in one day."
To post a comment Log In or Become a Member, doing so is simple and free