SnugZ Installs Two Epson SurePress Digital Label Presses for Creation of Promotional Products
Tuesday, June 16, 2015
Press release from the issuing company
Epson SurePress L-4033AW and SureColor F-Series Dye-Sublimation Printers Provide High Quality Prints to Meet the Demands of SnugZ Customers
LONG BEACH, Calif. – Epson America, Inc. today announced that SnugZ USA, a leader in the promotional products industry, has purchased and installed twoEpson SurePress® L-4033AW digital label presses for printing customized labels, personal care products and dome stickers. SnugZ is also leveraging three Epson SureColor® F-seriesdye-sublimation printers to reliably produce lanyards with consistent color.
"Since 1989, we have been committed to providing an exceptional customer experience and producing high quality products for our customers," said Darren Massey, director of operations, SnugZ. "We had been looking to print cleaner files with higher details for our customers, and in looking to acquire new digital label presses, the Epson SurePress stood out, as it had the finest detail of any available press. Both being able to print white ink and producing much cleaner and clearer fine detail has been very positive for us and our distributors."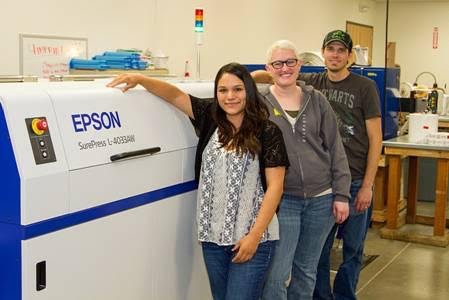 Designed for prime label converters and commercial printers, the Epson SurePress L-4033AW is an easy-to-operate seven-color inkjet digital label press with White ink that makes high-quality, short-run label printing easier and more efficient, even on clear and metallic substrates. Delivering exceptional print quality and accurate color reproduction, as well as innovative printing features, the L-4033AW is a cost-effective and reliable solution that allows printers to expand their service offerings and improve profitability.
SnugZ also installed three Epson SureColor F-Series dye-sublimation printers to produce lanyards with consistent color. "We chose the F-Series because we felt it was the best dye-sublimation printer available, and since purchasing three of them, we are so impressed with the colors and have not been disappointed," said Massey.
Driving the SurePress L-4033AW is the included Wasatch RIP and Print Management Software. The Wasatch SoftRIP is a sophisticated RIP solution designed to save time and money by including superior color management options, efficient layout features, powerful workflow tools, variable data printing, and contour cutting, all while producing excellent quality color. "The Wasatch RIP that comes with the press is easy to use and we are able to produce the color we expect with every job," said Massey.
"We work a lot with our customer's company's logo, so our labels represent a company and their images, as such, we require the utmost quality from our prints," continued Massey. "When we switched to the SurePress, there was a unified gasp of excitement from our SnugZ teams and customers regarding the overall print quality."
"We are thrilled when an industry leader such as SnugZ, that prides itself on providing the highest quality products possible, chooses the Epson SurePress for its label printing needs," said Mark Elsbernd, North America region sales manager, Epson America. "This underscores the importance of the SurePress within the industry – to provide short-run, high-quality labels on various substrates that meets the needs of high volume production demand."
About Epson SurePress L-4033AW:
High Quality Labels: Epson MicroPiezo® ink jet technology with variable-size droplets as small as three picoliters provides ultra-precise drop formation and placement to deliver smooth gradations, remarkable color quality, and sharp detail
Industrial Quality Inks: Seven-color (Cyan, Magenta, Yellow, Black, Orange, Green, and White), durable, water-based, resin-coated pigment inks provide superior adhesion and reproduce a wide range of colors
Versatile Substrate Support: Prints on a range of standard, off-the-shelf materials including gloss, semi-gloss, matte, film, clear, and metallic substrates
For additional information, visit www.epson.com/surepress or contact Mark Elsbernd, North America region sales manager, Epson America, at 562-290-5244 ormark_elsbernd@ea.epson.com.
To post a comment Log In or Become a Member, doing so is simple and free