Friesens Installs Manroland R900 HiPrint XXL
Monday, June 15, 2015
Resounding success as Friesens
Corporation puts the apex of automation and North America's largest perfecting press into action.
A Manroland eight-colour, format 8, R900 HiPrint XXL featuring a raft of automation modules has been commissioned at Friesens Corporation located in Altona, Manitoba.
As North America's premier book, yearbook and packaging manufacturer, providing publishers, self-publishers, institutions, businesses and schools with quality, in-house services in 350,000 square feet of state of the-art production facilities, it's no surprise to know Friesens is in the business to meet their customers' needs.
When preparing to invest in a new workflow, Friesens determined which crucial criteria best served their clientele: high performance, innovation, substantially increased capacity and radically streamlined production. All of these key requirements were met by Manroland Sheetfed utilizing a golden format in the book imposition world, a 73" wide XXL super format. This provides an imposition of up to 64 pages, printed both sides in one pass or for added streamlining, the ability to slit-down a 64 page format into a 2-up, 32 page imposition, in-line.
Sean Springett, U.S. & Canadian Marketing Manager for Manroland Sheetfed noted "What Friesens has accomplished is very rare, they increased their productivity by 4 times their current workflow, the combination of perfecting, press speed and sheet size, all in a single pass press has afforded a competitive edge unmatched by other book printers in a sheetfed press, specifically in North America."
The R908 HiPrint XXL is equipped with InlineColorPilot, the world's most automated and accurate colour management system capable of registering full ink reads within 3 sheets, at full press speed. Once read, the fastest ink train in the business will make any required colour change parameters. Coupled with InlineRegister, Friesens is able to control circumferential, diagonal and lateral register on the fly, fully automatically during any sheet read sequence ensuring spot-on quality and the fastest VLF make-readies.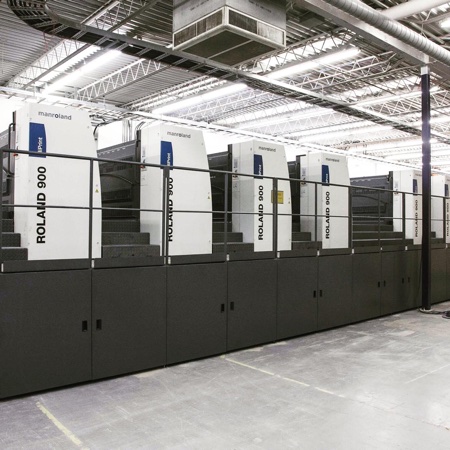 Curwin Friesen, CEO of Friesens Corporation stated "We are extremely excited to push the boundaries of size, speed and automation with the addition of the XXL press to our production line-up. This installation demonstrates our long-term commitment to our book publishing customers and ensures our employee owners have advanced equipment to help them succeed in the North American print market."
Integrated into every Manroland Sheetfed press is the state-of-the-art press management system, the IntegratedPilotPlus, a CIP3 and JDF compliant system where job parameters are automatically sent to the press from Pre-Press reducing make-ready times and maintaining on the run job changes, such as air settings or ink profile changes, any modification to the original file are saved and automatically updated to the original job specifications, especially important for repeat work.
Byron Loeppky, Production Manager commented, "Our Manroland project is one of the most complex and involved expansions in our history. Our staff and team did a tremendous job in achieving a successful installation all the while meeting the delivery needs of our customers. A major installation like this requires teamwork on every level and our staff and leaders delivered brilliantly."
Michael Mugavero, CEO of Manroland Sheetfed, US & Canada stated "Printers frequently voice concerns about their customers perceiving print production as a "commodity," with no significant quality difference and few (if any) service advantages from one operation to another. The Friesens' team focused on ways to better service customers; by unlocking Large Format's potential for their operation. Being a leader among printers, Friesens is using processes, systems and technology to create exceptional quality, more quickly and with less waste; thereby, providing more tangible value and achieving greater customer satisfaction."