PPI Association & The Pacific Printing Industries Educational Trust Celebrate 3rd Year of the PrintROCKS! Student Poster Contest
Thursday, June 04, 2015
Press release from the issuing company
Portland, OR. - PPI Association, a visual communications trade organization, announced the winners of the annual PrintROCKS! student designed poster contest, which is sponsored by the Pacific Printing Industries Educational Trust.
111 high school and college students entered the competition with their BEST graphic design interpretations of PPI's annual PrintROCKS! Awards event. The students were required to incorporate a set of design assets, one of which was very challenging - torn cardboard or kraft paper. The number of entries more than doubled that of the previous year and the quality of all the entries was very impressive.
"The PrintROCKS! Awards spotlights the "Best [Printing] in the West", from large format to business cards, from car wraps to brochures, from direct mail to point of sale and everything in between… whether created with digital technology, offset, inkjet, screen print techniques, or flexography" shared Jules Van Sant, PPI Executive Director. "The Ed Trust champions careers in this exciting industry and wants to ensure future print professionals are also spotlighted. The student poster contest has gained awesome momentum. These students will have bright futures in visual communications and we can't wait to see where their talents will take them… to careers in PPI member companies, we hope! Our first place winners, Annie Thomas and Katy Nault were both wonderfully creative in their graphic solutions, but so many entries were amazing that it was a tight competition."
The Ed Trust awards winners in each of the two categories, High School and College, the following:
First Place: $500 scholarship
Second Place: $250 scholarship
Third Place: $100 scholarship
Plus the students' work will be showcased at the PrintROCKS! Awards Dinner on October 2nd, 2015 in Tacoma, Washington.
They will receive national social media recognition and their posters will also be showcased on PPIAssociation.org and WhyVizComm.org.
The first place winners in our two categories of High School entries and College entries are:
HIGH SCHOOL FIRST PLACE: Annie Thomas, South Eugene High School
Annie's creative inspiration:
"This poster shows the unveiling of the PrintRocks! event represented by the tearing open of the brown paper to uncover the details and information about tent."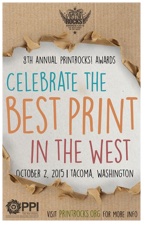 COLLEGE FIRST PLACE: Katy Nault, University of Oregon
Katy's creative inspiration:
"I wanted a clean and simple design that maintained a 'retro' feel while making good use of the brown craft paper."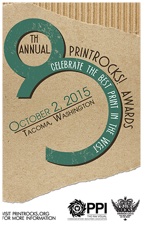 To post a comment Log In or Become a Member, doing so is simple and free