Hammer Packaging finds multiple benefits with its third and newest Colter & Peterson paper cutter
Wednesday, May 13, 2015
Press release from the issuing company
Paterson, NJ – Hammer Packaging has a long and successful history of making savvy business decisions. Management at the innovative Rochester, New York printer, which first opened its doors in 1912, continues to reinvest profits back into the business. After experiencing solid results the last five years with two paper cutters from Colter & Peterson, the company recently installed a third machine – a custom 75" Saber® XXL.
The new unit joins two other Sabers, a similar size 75" and a 62" paper cutter, and all are equipped with the exclusive Microcut® automated back gauge control system. With a little more than a month of results, Larry Ockenden, Finishing Operations Manager at Hammer Packaging, is happy with how well the new machine is performing.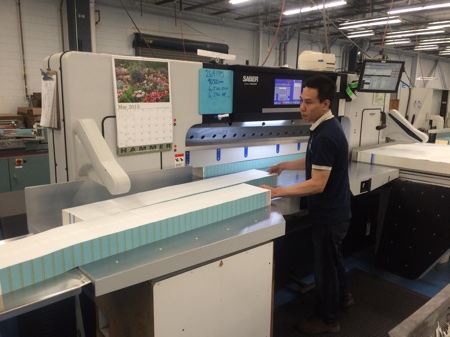 "We are impressed with the Sabers' performance and the newest cutter is doing what we expected it to do. We have less down time and the automatic knife change is a very nice feature," said Ockenden, who has managed Hammer's Label Finishing Department for 33 years.
Hammer Packaging has a rich history in Rochester dating back 103 years ago. Originally known as the Genesee Valley Lithographic Company, they were a regional supplier of labels for the fast growing agricultural industry in Western New York. Since then the company has evolved, moving into new markets while expanding its capabilities. Jim Hammer, President and CEO, is the fourth-generation to run the company. Through his vision and leadership, he has grown the company to over $100 million in sales and employs over 450 people.
Printed labels and package decoration are produced today on a high volume global scale for food and beverage, household products and horticulture customers. Printing over 20 billion labels a year, Ockenden says his team uses the Sabers to trim sheets produced on Hammer's KBA large format 7- and 8-color roll-to-sheet presses.
"They cut labels from 1" x 7" up to 6" x 10", and are solid, well-built machines. The double knife pull makes for a stronger machine; it distributes the pressure and cutting accuracy more evenly and moving material is much simpler. The air flow system makes it easier to take large sheets and move them around for cutting purposes," commented Ockenden, in reference to the 58"-59" sheets printed on the KBA presses.
Saber cutters combined with Microcut make an operation more efficient. State-of-the-art technology gives operators all they need, from memorizing cutting sequences and positioning the back gauge blade for cuts within 1/64th of an inch, to automated, touch-button control.
"These machines have safety features built into them and make an operator's job easier. It makes it safer to move heavy material around," informed Ockenden, who is happy not only with how the equipment has performed but with C & P as well.
"We have known Colter & Peterson for many years and they also provide service on two of the five Polar cutters we have. They have always been very responsive and help us with technical support over the telephone whenever we need it," replied Ockenden. "The Sabers so far have responded very well and I'm looking for longevity from them."
To post a comment Log In or Become a Member, doing so is simple and free