KBA Rapida 106 for Japanese printing company
Thursday, May 07, 2015
Press release from the issuing company
High-speed sheetfed offset at Joemay in Niigata
On 22 April a Rapida 106 with four printing units went live at printing house Joemay in Niigata, on the west coast of Japan, only three weeks after it was delivered.
The four-colour press for the Japanese market is somewhat of a novelty for KBA as the presses going to Japan are usually longer. Nevertheless, the world's makeready champion won over all at Joemay with its fast job change and the Rapida 106 outstanding performance of up to 20,000sph.
Founded in 1995, the family-run firm with approx. 70 employees focuses primarily on commercial printing. However, Joemay doesn't think of itself solely as a printing company, but more a communication company given its broad service offerings ranging from campaign planning, production of contents and advertising material to PR services for customers. Along with printing catalogues, brochures, flyers and posters, challenging packaging substrates, e.g. for Japanese chocolate, also belong to its portfolio.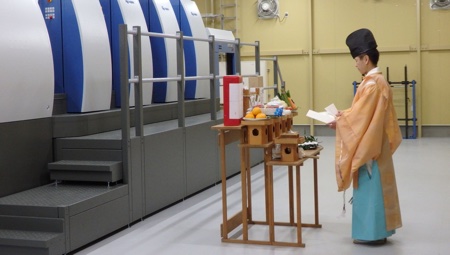 A traditional Japanese Kadoshiki ceremony marked the official inauguration of the Rapida 106 that took place three weeks after delivery
Given the frequent mix of small to very large-sized jobs Joemay looked for a press offering the highest level of automation and the shortest makeready times. KBA was thus able to win points with its Rapida 106 makeready world champion against tough competition from Japan. The experts from Niigata were bowled over in particular by the savings in waste thanks to QualiTronic ColorControl. Further features include automatic plate change, water cooling, inking unit temperature control and the networking via LogoTronic CIPLinkX.
Raised by 450mm (17.7in) the four-colour press often runs at speeds of up to 20,000sph and is currently the only high-speed press in Japan delivering this high level performance. A digital speedometer is used by owner Takeaki Kato to draw the company's employees, customers and business partners attention to this.
Further Rapida presses will installed in Japan over the coming months.
To post a comment Log In or Become a Member, doing so is simple and free