Graphic Media Solutions' MGI DP8700XL
Friday, May 08, 2015
Press release from the issuing company
Graphic Media Solutions (GMS) is a dynamic marketing company located in Villa Rica, GA. GMS serves their clients through digital printing, graphic design, print management, web development, media placement, direct mail, and logistics.
GMS recently announced the opening of their new digital print center. This new operation gives them the opportunity to produce large and small runs of high quality print jobs on site.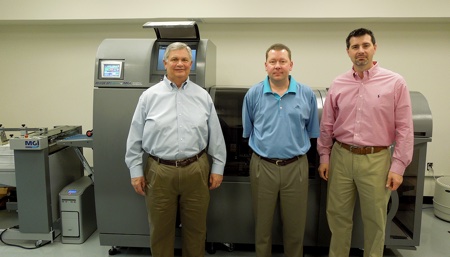 We met up with Bryan (middle) and DJ (Right) of Graphic Media Solutions to ask a few questions about their investment in the MGI DP8700XL digital printer.
Q: What was the criteria you were searching to fulfill?
A: We needed to differentiate ourselves through print quality, speed, and efficiency.
Q: Why did you decide to buy the MGI DP8700XL?
A: The DP8700XL fulfilled our needs, and offered offset print quality for the price of digital.
Q: What are your future plans with the machine?
A: The MGI DP8700XL, in addition to our digital print equipment, has quadrupled our capacity. This allows us to pursue business we were unable to handle in the past.
To post a comment Log In or Become a Member, doing so is simple and free