Aleyant Celebrates 10-Year Anniversary
Monday, April 06, 2015
Innovation, Growth, Geographic Expansion Mark First Decade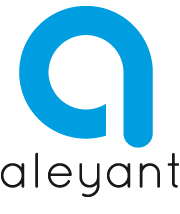 Wheaton, Illinois – Aleyant, an innovative leader in providing robust software services to the graphic communications industry at value-driven prices, today announced it is celebrating its 10th anniversary, having been founded in April of 2005. The company, formerly known as Aleyant Systems, is honoring its first decade in business with the launch of a fresh, modern logo and a forward-looking strategy where making printing companies around the world successful with cloud-based services remains front and center.
"Ten years has gone by quickly," said Greg Salzman, President of Aleyant. "When I founded the company a decade ago, I simply wanted to address what I saw as a gap in the marketplace and new opportunities offered for printing companies by the emergence of cloud-based computing. It is gratifying to have that path validated, and I extend my warm personal thanks to the Aleyant team and all of our wonderful customers for helping me make this vision a reality."
Celebratory Promotions
To further celebrate its 10th anniversary, Aleyant will be making a number of promotions available throughout the balance of the year, primarily through its social media channels, including Twitter, LinkedIn and Facebook. The first promotion is immediately available: The first 10 new customers who purchase Aleyant Pressero™, beginning April 1, 2015, will receive a free, "instant" B2C storefront (see the content at MyOwnPrintShop.com) and a free B2B sales tool and "RedFrog" demonstration storefront. These have a combined $1,500 value! "Stay tuned for more exciting offers," Salzman added.
New Branding and Logo
Aleyant's new branding and logo reflect a clean, simple and sophisticated design that honor its roots in sheet-fed printing but also give recognition to the industry's digital transformation. The company will be launching an updated Aleyant.com website later this year as part of the rebranding.

Major Milestones
Over the past decade, Aleyant has achieved a number of major milestones that have led to its ability today to provide affordable and innovative solutions combined with exceptional customer service and support, a winning combination. These include:
2005 – Company founded. Launched PrinterOrder, later rebranded as our flagship Aleyant Pressero™ Web-to-Print software. Pressero included Aleyant eDocBuilder™, our web-based variable data publishing (VDP), personalization and online design system
2007 – Released eDocBuilder as a separate, standalone product for integration into other e-commerce web-to-print storefronts and portals. eDocBuilder is now integrated into multiple MIS and web-to-print systems and even powers the document customization capabilities of industry leaders such as Mimeo.com
2009 – Released eDocBuilder Interactive Designer™ as a Flash application aimed at the B2C online design market, where the ability of the user to change fonts, font sizes, alignment, layering, font colors, move and rotate text and images within a template and see and instant proof was desirable
2011 – Updated eDocBuilder Interactive Designer with HTML5 and responsive design to address the growing tablet market, especially the iPad and later, smartphones
2012 – Released Automated Workflow Integrator™ (AWI) connecting online orders to the prepress and production workflow
2013 – Opened Southeast Asia office in India
2014 – Released cutting-edge, responsive design, mobile-friendly site options in Pressero
2014 – Opened European office in Spain
2014 – Acquired stake in Tucanna, a color management, preflighting and online approval software provider
2014 – Established official partnerships with FUJIFILM North America Graphic Systems Division and Hewlett Packard's HP Inc. printing division
2015 – Aleyant now employs a team of 30
Voice of the Customer
The Aleyant team has always been customer-focused and has a reputation for fast response times, proactive updates and the ability to help customers grow their businesses through the use of our flexible, affordable solutions. Here is a sampling of what our customers have to say:
"When we started using Pressero, we were a relatively small company with one facility management site," said Patrick Buxton, Director of IT at DigiCOPY. "Pressero allowed us to offer a great service to an important customer, and then leverage that to sell a similar service to others and scale the business."
"We have been with Aleyant since it started back in 2005," said Bruce Pederson, Owner of Tiger Printing Group. "The company has been a great partner for us. Not only has Pressero helped us to expand our digital short-run department, but it has also enabled us to secure a number of large corporate clients that we would likely have been unable to serve in the past."
"For the past 7 years Mimeo has relied on eDocBuilder as our integrated VDP solution. During that time, we have expanded our business globally and Aleyant's scalable platform has successfully grown with us. Congratulations to Greg and the Aleyant team for 10 years of providing great software to the print industry." - David Uyttendaele, CTO, Mimeo Inc.
Pressero Web-to-Print
Aleyant Pressero™ is an affordable and easy-to-use cloud-based B2B or B2C online storefront solution that can quickly and easily be customized to individual client needs. This includes 'mobile-first' design for branded sites to ensure proper display regardless of the viewing device being used. Pressero can be enhanced with the addition of Aleyant eDocBuilder™, a web-based variable data publishing system built specifically to easily integrate into Aleyant, third-party web-to-print or MIS (Management Information System) solutions that features advanced typography control, imposition, scripting support, PDF workflows, rapid template creation, Excel merge capabilities and more. Aleyant's Automated Workflow Integrator™ (AWI) uses a rules-based approach to automate such processes as file renaming, unzipping zipped files, or sending files and metadata directly to a RIP for processing, eliminating multiple steps in the workflow. Aleyant Print Job Manager™ is a new mobile, cloud-based approach to MIS that includes a fast means of generating market-driven pricing, job management, inventory control, planning and estimating.
For more information about Aleyant offerings, please visitwww.Aleyant.com or call +1.630.929.0104.
Our blog can be found at blog.pressero.com.
About Aleyant
Founded in 2005, Aleyant is an innovative leader in providing robust software services to the graphic communications industry at value-driven prices. Its expertise lies in developing highly functional and flexible applications using the most current Web development technologies available, including workflow aimed at lights-out automation. Its flagship web-to-print software, Aleyant Pressero, is a highly customizable retail and business-to-business storefront interface and has launched many of its clients into the exciting world of Internet-based print sales. Aleyant also offers a Web-based online design and variable data publishing (VDP) system, Aleyant eDocBuilder, as a separate product. Its solutions are integrated with multiple MIS and web-to-print systems.