Kocher + Beck USA, L. P. celebrates groundbreaking of new facility extension
Wednesday, April 01, 2015
Press release from the issuing company
Kocher + Beck USA, L. P., the recognized market leader in the field of rotary-die cutting technology, staged a groundbreaking ceremony for a state of the art extension to its manufacturing facility in Lenexa, Kansas.
The 24,000 square-foot extension will help Kocher + Beck to meet the growing demand for its high quality flexible dies in the future. "Due to our continuing growth within the North and South American market places, we are thrilled to be able to start on the next phase of expansion for our Lenexa facility, this commitment will allow us to continue to offer the highest level of customer support and high quality flexible dies to our customers" said David Morris, President of Kocher+Beck USA.
The facility will be fully operational in December 2015. Lars Beck, The Managing Director of Kocher + Beck, welcomed the Mayor of Lenexa, city officials and about 50 guests. He expressed his excitement about the positive impact this new development will have on the company, the local community and Kocher + Beck customers.
"After evaluating our current production facility and the requirement to increase capacity and efficiencies, it was quickly determined the best way forward was to construct an extension, we are excited to be able to continue to service our customers in the best possible way."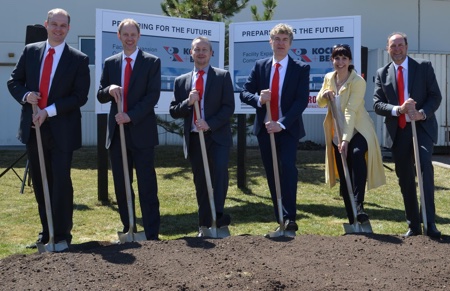 Editor's Note: This news is real.
To post a comment Log In or Become a Member, doing so is simple and free