ICON Digital Productions Ups Image Quality, Productivity with First Rho 1312 Printer Installed in Canada
Tuesday, March 03, 2015
Press release from the issuing company
'Hybrid Architecture Gives Us the Flexibility to Do Both Flatbed and Roll Printing'
RICHMOND HILL, Ontario – ICON Digital Productions Inc., a major provider of large-format digital graphic solutions with offices in Toronto, Montreal and New York, has raised the bar for image quality, productivity and versatility with its recent acquisition of a Durst Rho 1312 UV inkjet digital printer – the first installed in Canada. The 98-inch Rho 1312 is the most productive 12-picoliter hybrid printer in its class.
ICON Digital President Juan Lau said his company, a long-time Durst user, was "ready to upgrade our flatbed printer and needed something faster. We have a number of Durst platforms in our shop – we've always viewed Durst products as best in class and come to appreciate them as very reliable and very fast, with print quality as good as it gets in large format. The Rho 1312 represents Durst's latest generation of high speed printers – it's definitely one the fastest we looked at. Plus its hybrid architecture gives us the flexibility to do both flatbed and roll printing."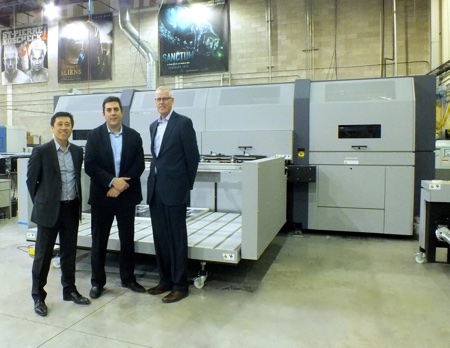 (L-R) ICON Digital Productions' Juan Lau (President/CEO) and Alex Christopoulos (CFO), and Joe Lloyd (Durst U.S.) with Canada's first installation of the Durst 1312 UV hybrid digital printer.
Since it opened 20 years ago, ICON Digital has specialized in the digital production of large-format graphic display solutions. "Anyone can offer large-format printing these days, but there's a lot more to being a successful large-format provider," Lau said. "You have to understand how to sell 'digital solutions' and differentiate them from analog or traditional printing. Digital is a technology that's designed to address things traditional printers can't do cost-effectively – such as custom, short-run, oversized and outdoor applications."
Lau said the Rho 1312 helps ICON Digital progress in its business philosophy by satisfying the present-day needs of the company, from internal operations to customer satisfaction.
"For years, speeds have been improving, and the 1312 seems to have reached speeds and image quality that's on par with litho printing," he said. "Its print quality at higher speeds means we can do less outsourcing to litho printers and keep that work in-house. Plus the Rho 1312's ink set allows us to print on a wide variety of substrates. That's very important to customers who are always pushing the envelope on new substrates, and it's very important to us because it helps open brand new business opportunities."
Rho 1312
The 98-inch (250 cm) Rho 1312, which prints up to 6,600 s.f./hr., offers improved image quality, increased reliability during printing, and unparalleled media handling flexibility, particularly with difficult and heat-sensitive media. Durst's Quadro Array print head technology, applying very small droplets of only 12 picolitres, enables a very high printing speed without compromising quality of the output. Images are crisp, clear and visually striking. The 1312 also incorporates "Gradual Flow Printing" for smoother tones over large areas and a high gloss finish, even at the highest speeds.
"ICON Digital's thorough understanding of large-format digital printing places it in the highest echelons of the industry, and we're very pleased that Juan Lau and his team recognize Durst as best-in-class among large-format digital imaging platforms," said Brent Moncrief, Vice President of Sales & Marketing for Durst U.S. "The company's acquisition of a Rho 1312 – the first install in Canada – is the latest chapter in a long and beneficial partnership for both of us."
To post a comment Log In or Become a Member, doing so is simple and free