Luminous Art Exhibit Showcases Digital Tools
Wednesday, January 14, 2015
Press release from the issuing company
Bainbridge Island, WA - Inspired by nature and brought to life with high-tech tools and processes, Karin Schminke's masterful abstract work explores light and shadow, image and reflection, illusion and reality in a solo show on Bainbridge Island, Washington.

Schminke's works on panel are created by layering laser-etched and -cut papers, acrylic paints and gels, inkjet pigment ink, and acrylic paint onto large aluminum panels. This results in predominantly abstract work with complex surfaces, and intriguing depths.

"The luminosity of the reflected colors over aluminum is modulated in interesting and ever-changing ways depending the interplay of ambient light and the viewer's position," Schminke says.

Also part of this exhibition is a series of intricate, extensible cut wood and metal screens. Inspired by water, flora, and sometimes pure pattern, Schminke first hand-draws, edits digitally, laser-cuts, and refines her designs on paper. These are then produced using either laser or waterjet cutting services.

The interplay among the works in this exhibit is fascinating. Ultimately, though, it's our visual and emotional responses that make this work so powerful. These are mesmerizing, lustrous abstract worlds that we can easily get lost in.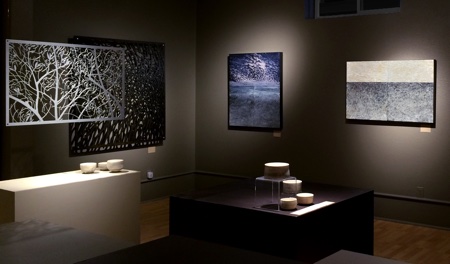 To post a comment Log In or Become a Member, doing so is simple and free