Versatile, High Quality 'Cool Cure' LED Inkjet Imaging Creates New Advantages at DataPrint Initiatives
Thursday, December 11, 2014
Press release from the issuing company
FREMONT, California – EFI™, a world leader in customer-focused digital printing innovation, today announced that DataPrint Initiatives has purchased an EFI H1625 LED wide-format printer. The Fort Wayne, Ind.-based digital printing firm is using the printer to fulfill a new contract for industrial production of regulatory signage while creating additional opportunities for high-quality point of purchase and display graphics printed on rigid or flexible media.
DataPrint Initiatives is installing the printer following its just-completed move into a new, larger 8,000 sq. ft. facility. The new location offers more space for wide-format graphics production, an important growth area for the nine-year old business.

Dan Foster, DataPrint's president and CEO, found that the printer's quality and low total cost of operation made it a uniquely attractive investment. DataPrint's customers will benefit from the higher-end imaging possible with the printer's four color grayscale printheads, which produce near-photographic image quality with saturated colors and smooth gradations.

'Phenomenal quality' that sets DataPrint apart from the rest

"The printer's low-energy LED capabilities and phenomenal quality made it a much better choice than the UV inkjet devices I looked at from other manufacturers," said Foster, who spent a year evaluating different vendors' offerings before selecting the EFI H1625 LED printer.
In test prints Foster had produced when searching for a new device, "every other printer we looked at showed banding at medium-quality production speeds, but the EFI printer did not," according to Foster. "The outstanding quality we could get, compared to everything else in this price range, really surprised us."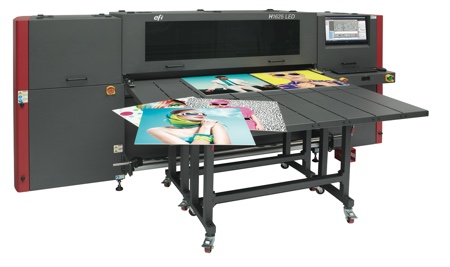 Now, DataPrint will be producing wide-format graphic work that it had outsourced before, becoming a more valued resource to its clients. "This is not some pie-in-the-sky opportunity for us," said Foster. "We bought this printer to meet a real client need for a large amount of industrial signage."

Some of the work DataPrint is producing for its client requires superior white ink opacity for signs printed on dark colored aluminum composite material. The printer, according to Foster, really delivers for this type of work. "The EFI H1625 got my attention when I saw how opaque the white ink is," Foster said.

'Cool cure' LED for reduced energy costs and greater versatility

DataPrint's new hybrid roll/flatbed printer includes EFI's industry-leading "cool cure" LED technology, which enables printing on a broad range of substrates, including media that cannot withstand the high-heat drying or curing methods used in other inkjet platforms. DataPrint is gaining a greener production solution as well, with a device that prints with virtually no VOCs. In addition, the EFI H1625 LED printer's lamps reduce users' energy consumption and costs compared to UV and latex inkjet printers.

DataPrint is a long-time user of EFI's web-to-print technologies, and has started using them to develop online web sites to order large-format graphics. The company is also establishing a consistent, company-wide production workflow based on EFI Fiery® technologies, with EFI Fiery XF software used to drive the new wide-format printer and an EFI Fiery digital front-end on the company's Ricoh cut-sheet digital press.

"The printer Dan Foster's team is installing drives value in ways no other wide-format inkjet printer has done before," said Frank Mallozzi, EFI's senior vice president of worldwide sales and marketing. "Our LED inkjet technology, combined with everything EFI offers in web-to-print and production workflow products, helps printing companies like DataPrint Initiatives go to the next level in market capabilities and profitable growth."

For more information about EFI Wide Format printers and other EFI products, visit www.efi.com or contact 800-875-7117.
To post a comment Log In or Become a Member, doing so is simple and free