Matan Annouces MatanFlex, a New System for Fleet Graphics, at SGIA 2014
Wednesday, October 15, 2014
Press release from the issuing company
Las Vegas – Matan is proud to announce the MatanFlex, a new 3m UV system specifically developed for fleet graphics, including truck curtains and car wrapping. The new printer features an innovative flexible UV ink which was developed specifically for this purpose. Introduction will be made at SGIA 2014, at Digitech's booth #2829
The new MatanFlex printer, together with Matan's UVFlex inks, is designed to replace retired industrial solvent printers which have been traditionally used for fleet graphics, as well as eco solvent and latex printers which don't offer robust enough solutions for these purposes, being uncapable of handling the heavy-weight rolls used for truck curtains.
The new UVFlex ink has outstanding stretchable properties, with an elongation to break of up to 250%, which makes it a perfect match for those challenging applications.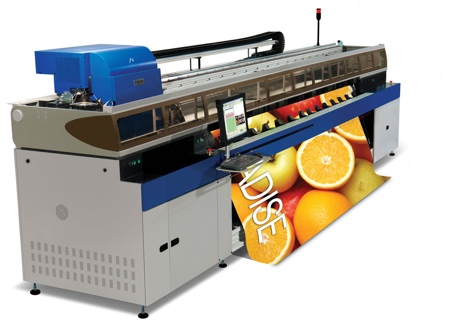 "Until recently UV ink was unsuitable for printing fleet graphics", said Matan's VP Marketing Erez Zimerman. "Printed truck curtains go through a lot of repeated folding, pulling and tearing, which regular UV inks cannot survive without breaking. Car wrapping demands a great deal of stretching and heating, which was also not possible with UV inks until now. Since solvent and eco solvent inks are being banned in many countries, for environmental and health reasons, it was necessary to develop UV inks that would be flexible enough to do the job, and we at Matan raised to the challenge." Added Zimerman.
The MatanFlex system is based on Matan's reputable Super-Wide Format platform, with hundreds of installations worldwide. The new inks are also suitable for other graphics applications and support a wide range of commonly used media.
The new MatanFlex platform opens countless new business opportunities, allowing wide format print providers to offer exciting unique products to new markets.
MatanFlex will be announced at at Press Conference at SGIA 2014
Thursday, Oct 23rd, 11:00 am at Digitech Solutions Group booth # 2829


To post a comment Log In or Become a Member, doing so is simple and free