Colonial Press International chooses Goss Sunday 3000 press for competitive advantage at GraphExpo 2014
Thursday, October 02, 2014
75-inch web width production capabilities key to decision
2x8 press offers unmatched production flexibility
At GraphExpo yesterday Colonial Press International of Miami, FL, USA sealed the deal for a new 2x8 Goss Sunday 3000 press that will triple the company's existing press output and boost competitive capacity across a broader range of products.
The 75-inch (1905mm) wide 2x8 format of the new five-unit Sunday 3000 press is unique in the market and was the key feature behind Colonial's decision. Twice as wide as any of the company's existing presses, the press has a cut-off of 22¼ inches (565 mm) and will be installed with both a pinless PFF3.2 folder and a JF80G jaw folder. This will enable Colonial to produce standard 8 ½ x 11, as well as double-parallel and tabloid products. The speed, format and configuration of the new Sunday3000 press means that it will triple Colonial's existing press capacity and allow them to offer customers new production efficiencies, in terms of cycle times and print turnaround.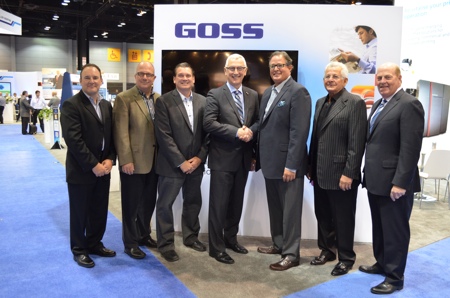 Goss and Colonial Press shaking hands on the deal yesterday at GraphExpo. (l to r): Phill Tilley (Goss), Mike D'Angelo (Goss), Daniel Michaels, COO, Colonial Press, Graham Trevett (Goss), Jorge Gomez, CEO, Colonial Press, Jose Gomez, Chairman, Colonial Press, Rick Nichols, CEO Goss International Corporation.
According to Jorge Gomez, CEO of Colonial Press, the decision to buy the new press is part of the company's core strategy to continually improve product cycle times and deliver greater flexibility: "We work predominantly for large corporations that have to coordinate diverse print requirements across many territories, so anything we can do to give them more time and greater flexibility provides us with a competitive advantage," explains Gomez. "This new press will not only give us three times more print output but, due to the format flexibility of the configuration, it will extend that advantage across a broader range of the products we produce for them."
Colonial Press is a company that in many respects characterizes the spirit of enterprise and opportunity associated with the American Dream. Founded in 1952, the current chairman Jose Gomez started work as a paper cutter at Colonial in 1970; 18 years later he owned the company, and today his son Jorge draws on his own extensive experience as a corporate accountant in heading the business. Located close to Miami airport, the company employs around 200 people and has a fleet of web and sheetfed presses, producing high-end print such as catalogs and magazines for corporate clients.
"Running the finest quality at speeds up to 3,000 feet per minute, the Sunday 3000 2x8 model is by far the most flexible web press on the market today and suits the American market perfectly," comments Graham Trevett, senior VP of sales in Goss Americas. "It's the ideal press to help Colonial continue pushing forward on their mission to deliver the highest competitive advantage to their customers."