At Graph Expo, Ryobi MHI, GSNA, and Cron Focus on Ways Printers Can Cut Production Costs, Supercharge Productivity, and Enter New Markets
Friday, September 26, 2014
Press release from the issuing company
CHICAGO - New-generation offset printing technology that beats digital and inkjet presses for proven reliability, superior print quality and low cost-per-impression is the focus of the GSNA exhibit at Graph Expo 2014 starting this Sunday in Chicago.
"We want to help all printing company owners and managers truly understand the business-building benefits of today's high-tech sheetfed offset presses," said GSNA Chairman Don Barbour.
"There is no debate," Barbour explained. "New, highly automated offset equipment is the single most practical and affordable way to drive down production costs, supercharge productivity, deliver exceptional print quality and enter profitable new print markets."
At Booth 4404 in continuous live demonstrations will be the five-color, 8-up RYOBI MHI 925 press with LED-UV instant curing system, which has seen more than 100 installations in North America and worldwide. The LED-UV equipped press recently earned a coveted Must See 'Em 2014 award.
Also featured in the booth: the CRON UVP 36 metal CTP and Blackwood plates, one of the most versatile and cost-efficient combinations available today. CRON CTP's industry-leading 1% dot-gain allowance and the well-known RYOBI MHI extreme dot sharpness will be emphasized throughout the live demos.
The RYOBI MHI UV Casting & Foiling system for special effects and security printing will be discussed, as will the RYOBI MHI 750 Packaging Edition press, which enables printing on up to 31-point board. GSNA's large technical support team in the U.S. and Canada will be spotlighted, along with all other RYOBI MHI presses, print technologies and environmental benefits.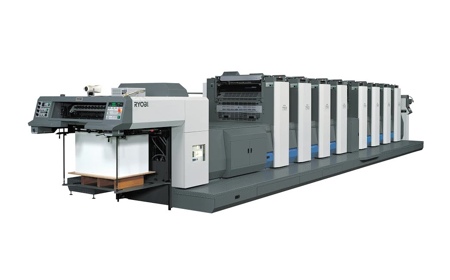 To schedule your personal, live VIP demo at Graph Expo, Sunday, Sept. 28, through Wednesday, Oct. 1., please visit: www.ryobi-group.com/graph-expo.html or call 877-955-3770.
To post a comment Log In or Become a Member, doing so is simple and free