New INX International digital press and ink dispenser make successful debuts at Labelexpo Americas
Friday, September 19, 2014
Press release from the issuing company
Schaumburg, IL – Clogging the aisle ways to check out the newest equipment INX International Ink Co. had to offer, crowds attending the recent Labelexpo Americas show were impressed by what they saw. The Komori NW210 inkjet UV digital narrow web press attracted a buyer on opening day of the Sept. 9-11 show at the Donald E. Stephens Convention Center in Rosemont, Illinois, and the HMJ-200 small batch ink dispenser has a bright future with its user-friendly technology and buyer friendly price point.
"Labelexpo continues to produce the response we anticipate and sometimes more," commented Rick Clendenning, President and CEO of INX International Ink Co. "We expected attention would be at a high level for our products, and having a buyer approach us for the NW210 press was an added bonus. We also enjoyed a terrific response to the new ink dispenser and the various flexo and gravure ink formulations that give label printers lots of options to choose from."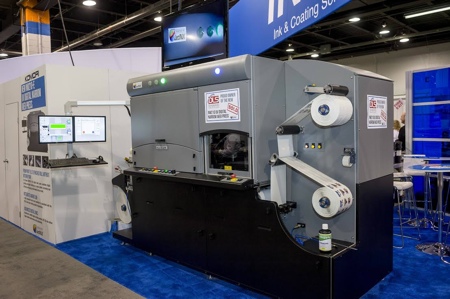 The NW210's first buyer is Diversified Labeling Solutions in Itasca, Illinois and will be installed by the end of the year. Owner Bob Hakman indicated that when the company purchased the NW140 press from INX last year, they were planning to upgrade when the next generation press reached the market.
"The NW140 has been a very reliable performer for us, but the need for a wider and faster version was apparent to us in order to remain competitive in the marketplace and better service our customers. When we learned the NW210 would be released at this time, we got in line."
The new and wider Komori NW210 inkjet UV digital narrow web press was a hit with label converters, direct mail and packaging printers who are weighing the transition to digital printing. Powered by JetINX™ to make it incredibly fast, the press produces UV-LED cure single pass output at up to 80 feet per minute and prints on any label stock at a maximum printing width of 210mm. Komori serves as the sole national dealer in the U.S.
The HMJ-200 small batch ink dispenser from HMJtech Dispensing Solutions is ideal for the tag and label market. Designed for small-to-medium sized batches with single point dispense, it requires only 90 seconds to deliver four ingredients in a one-gallon jug. Available for water based or UV curable ink, the HMJ-200 is configurable up to 14 base ingredients from kits, drums, totes or bulk and priced under $35,000. Visit www.HMJtech.com for more info.
On display in the INX booth for label printers to consider were three premium quality AquaTech ink formulations, two INXFlex™ process inks, and a pair of premium ink systems for shrink label printers. The INX Troubleshooting Guide App also was previewed and will be formally introduced at Graph Expo later this month. The user-friendly tool is designed to solve most common printing problems and can be shared with others.
To post a comment Log In or Become a Member, doing so is simple and free