Strubl KG opts for EVO XDs from KBA-Flexotecnica
Friday, September 19, 2014
Press release from the issuing company
Successful German premiere for the new compact platform
The compact EVO XDs/n press platform was developed by KBA-Flexotecnica in Tavazzano, near Milan, for the growing segment of smaller print runs in the flexible packaging printing market.
The Italian flexo specialist which has belonged to the Koenig & Bauer Group (KBA) for nine months recently announced the successful German market premiere of the new platform. The managing directors of Strubl KG in Wendelstein, near Nuremberg, opted for an eight-colour press from the EVO XDs series with a print width of 1,000mm (39.3in). This new press will be fired up in spring 2015.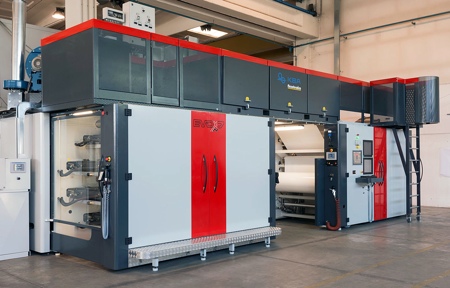 The new EVO XDs/n series from KBA-Flexotecnica are extremly compact and in terms of automation are aligned for increasingly smaller print runs
The Franconian company with over 60 years of history is managed by Dr Christoph Strubl and Franz Strubl. The 100-strong firm has a broad product portfolio. Along with film extrusion, flexo printing, laminating and post-press machines, Strubl KG also has its own engineering department for filling machines. This makes it possible for the company to deliver customer-specific system solutions from a single source. Customers value the flexibility, expertise and innovative strength of the mid-sized firm in particular. Strubl is a systems supplier for automation technology and packaging material. Its broad product portfolio includes:
plastic packaging (film and bags) for industrial and consumer goods
primary and secondary packaging for cleanroom
semi and fully automatic Plug & Pack packaging systems as well as user-specific packaging machines
The new EVO XDs/n series from KBA-Flexotecnica address the ongoing trend within the flexible packaging market towards smaller print runs with more frequent job changes. The main difference is the EVO XDs' print width of 600 to 1,000mm (23.6 – 39.3in) and 1,100 to 1,200 (43.3 – 47.2in) for the EVO XDn. When developing this new press platform the engineers at Flexotecnica placed great importance on an attractive price/performance ratio and high cost efficiency. The EVO XDs/n platform's energy-saving drive technology also contributes to this. AIF (= Auto Impression Setting System) automatic printing pressure adjustment and ARF (Automatic Image positioning detection) automated register setting keep start-up waste to a minimum. This has a significant advantage on production costs when frequently changing jobs and printing with very expensive substrates.
All of this is achieved without compromising the high print quality demanded by today's market. Film, laminate, paper and self-adhesive substrates can be processed with a high print quality, regardless if solvent, water-based, UV or EB inks are used.
To post a comment Log In or Become a Member, doing so is simple and free