Southwest Ohio's JBM Proves Manufacturing Continues to Surge
Tuesday, September 16, 2014
Press release from the issuing company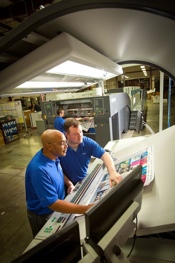 JBM's investment and commitment to the region demonstrates growth
LEBANON, OH - Continuing their focus on delivering meaningfully unique solutions for their customers, JBM announced today the installation of the Manroland R700, a new state-of-the-art press that provides the highest quality color management, quick changeovers and fast net run rates. This new technology will enable JBM to continue to revolutionize the niche envelope industry, and serve as a leader in providing customers more responsive turn times along with an increase in color consistency and quality.
JBM Packaging Positioned to Grow with Expanded Manufacturing Technology
Founded nearly 30 years ago, JBM Envelope now produces a wide range of specialty envelopes, with over six million envelopes manufactured daily. However, the business is changing with the times. When Marcus took over the business in 2008, his vision was to revolutionize the niche paper envelope business in a world that is evolving. Under the newly formed JBM Packaging division, Marcus and the JBM team's ingenuity developed innovative new products that range from artistic seed packets to folding drinking cups. All of these new product developments are predicated on the need to reinvent the manufacturing process to meet customer demand.
"Innovation in envelopes is a great way to describe JBM," noted Michael Mugavero, Manroland Sheetfed CEO for US and Canada. "JBM has distinguished itself among its competitors by offering superior advantages and responding to customer demands. The industry JBM serves is extremely competitive. Advantages developed to reduce costs and work in progress cycles position JBM to continue to be the industry leader. We know that customers demand tight control of branded colors, blazing fast turn-around times, little or no inventory, and of course, a competitive price. By investing in the Manroland R700 Direct Drive, JBM will have the upper hand and offer the best combination to retain and grow existing business, as well as bring in new customers," Mugavero said.
Manroland Technology Is Best Suited Solution
"We selected the Manroland R700 Drive press after an exhaustive nine month evaluation of technology available from the five leading press manufacturers. We were seeking a press that would provide us with the fastest changeovers, high run speeds, and advanced color management tools. These features will help JBM drive benefits to our customers, specifically in the form of more flexible production turn times and improved product quality," said Dan Puthoff, Chief Operating Officer.
About JBM
JBM Envelope, located in Lebanon, Ohio, is a leader in providing specialty niche envelopes to customers in the financial, hospitality, municipality, packaging and retail market segments. Founded in 1985, JBM is a family-owned company that continually invests to provide meaningful and unique solutions through commercial seed envelopes, retail seed envelopes, glassine envelopes and QuickCupsTM. JBM holds an SFI® chain of custody certificate from PricewaterhouseCoopers. For more information, visit www.jbmpackaging.com.
To post a comment Log In or Become a Member, doing so is simple and free