Benny Award-winning Colornet Press adds new Colter & Peterson three knife trimmer
Tuesday, September 16, 2014
Press release from the issuing company
Paterson, NJ – The next Academy Awards presentation won't take place for another five months but that doesn't matter to Colornet Press. The west Los Angeles printer does outstanding general commercial work for perfect binding and will be recognized by the print industry later this month with another Benny Award, continuing a streak that dates back to 2010.
Co-owners Nick Nejad and Rich Yassamy attribute their success to a number of reasons. A talented group of employees that performs amazing high quality digital and short-to-medium run work for perfect binding, is high on the list. So is the commitment to the most up-to-date equipment available, from conventional and digital presses and strong pre-press capabilities for fine color retouching, to a superb back-end bindery operation.
That level of dedication led Colornet www.colornetpress.com to being among the first in the western U.S. to install a new Colter & Peterson www.papercutters.com Accutrim HD1680 three knife trimmer last May.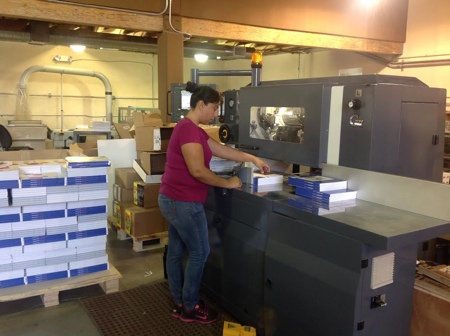 "We usually buy new equipment but were considering a used machine until one of the dealers in the area mentioned Colter & Peterson specialized in cutters and trimmers," recalled Yassamy. "I called Vince Payne at C&P and I'm glad I did. I was able to buy the Accutrim for the same price I was going to pay for the used equipment, plus it came with a two-year (for parts) warranty. It's been a great deal since the trimmer has worked very well for us and performed as expected."
One of the fastest machines in its class, the Accutrim HD1680 is user-friendly and includes features usually not found with off-line, on-demand three knife trimmers. Extremely efficient and very flexible, it has computer-controlled make ready that allows for through feed or one-man operation, a key selling feature for Colornet.
"The machine is simple enough that anyone can run it. Our foremen set it up and it's ready to be used by anyone on our staff," Yassamy said.
Minor format changeovers usually take less than one minute, and complete format changes can be performed in less than three minutes. The Accutrim HD1680 is designed with a 5-degree swing angle to ensure the highest quality cut for operators, and also reduces wear and tear while extending the life cycle of the knife. It offers a maximum book thickness of 3.5" with a maximum trim size of 11.8" x 16.5", but it was the minimum trim size of 3.15" x 3.15" that caught Yassamy's interest.
"We do work for design firms and ad agencies located in Los Angeles County and southern California. It ranges from annual reports, brochures, and catalogs to packaging, posters, and displays," remarked Yassamy, who partnered with Nejad to open the business in 1989 that today includes a 15,000 square-foot warehouse.
"The minimum cut size is perfect for the sizeable amount of pharmaceutical booklets that we do. The machine is very safe and handy and delivers an extremely precise cut. I liked having the safety features with the newest technology available for our employees. There is a lot of older equipment in the market that can't match the safety this three knife trimmer offers."
Colornet will collect its eighth Benny since 2010, plus two Awards of Recognition and 12 Certificates of Merit, at the 2014 Premier Print Awards Gala in Chicago on September 28. Yassamy said the 15 awards are the most this year among California printers.
To post a comment Log In or Become a Member, doing so is simple and free