Sun Litho installs 100th HP Indigo 10000 Digital Press
Tuesday, September 16, 2014
Press release from the issuing company
PALO ALTO, Calif - Today, HP announced that Salt Lake City-based Sun Litho has installed the 100th HP Indigo 10000 Digital Press worldwide. The new press expands Sun Litho's HP fleet, including an existing HP Indigo 10000, two HP Indigo 7500 Digital Presses and two HP Indigo 5500 Digital Presses. The larger sheet size is ideal for high-value projects, and the press boosts the company's variable data capabilities for direct mail applications. The new HP Indigo 10000 also offers Sun Litho the ability to grow market share by adding capacity for large-format applications, such as packaging and art reprints.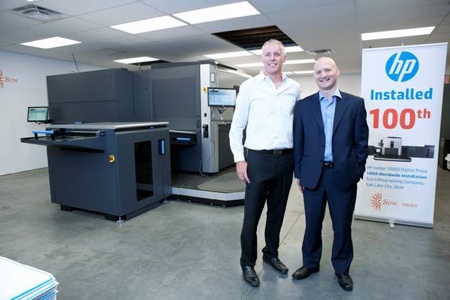 "We needed to expand our print capacity in order to explore new projects and take on new clients," said Jeff Isbell, owner and president, Sun Litho. "The new HP Indigo 10000 will help us capture even more of the high-quality large-format market, while maintaining the speed and quality standards that our customers are accustomed to with the HP Indigo presses."
Since its commercial launch in March 2013, the HP Indigo 10000 Digital Press has been installed in 24 countries across five continents. Like Sun Litho, several HP customers have purchased multiple presses, including Wing Hung and Sandy Alexander, which has acquired three. Offering high-quality prints, substrate versatility and production flexibility, HP Indigo 10000 customers have grown their businesses by improving production efficiencies and turnaround times as well as expanding into new applications.
"Print service providers must stay agile in today's market by providing a wide range of application possibilities and quick turnaround for customers," said Yishai Amir, vice president and general manager, Americas Graphics Solutions Business, HP. "This milestone installation of the 100th HP Indigo 10000 Digital Press is an indication that the print market sees HP Indigo as a leader in digital print and understands the value that wider-format digital prints bring to customers."
To post a comment Log In or Become a Member, doing so is simple and free