DGM Announces Installation of a Die Co-Ordinator Registration System at Royal Paper Box
Monday, September 08, 2014
Press release from the issuing company
RED BANK, NJ - Diversified Graphic Machinery, a global leader in hot foil Stamping and embossing machinery has announced the sale and installation of a Die Co-Ordinator pre-press die registration system at Royal Paper Box. The Die Co-Ordinator, manufactured by Insight Graphic Systems and exclusively distributed by DGM is designed for offline lock-up of foil stamping and embossing dies, which reduces over all set up time by up to 50%.
Founded over 70 years ago, Royal Paper Box is a leading provider of folding carton packaging solutions with 175 employees and approximately 172,000 square feet under roof on a sprawling, 10 acre campus in Montebello, California just east of downtown Los Angeles.
"We are extremely pleased that Royal Paper Box, one of the leading North American suppliers of folding cartons has selected the Die Co-Ordinator to increase the productivity of their foil stamping and embossing department," said Michael DeBard, President, Diversified Graphic Machinery.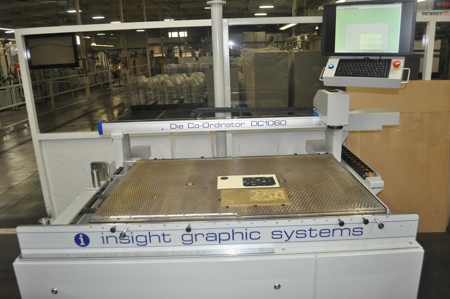 DGM's Die Co-Ordinator works with all flatbed platen foil stamping and embossing presses that have removable honeycombs and requires no modification to presses, honeycombs, dies or hooks, making it the most flexible and cost-effective die lock-up system available.
The off-line Die Co-Ordinator digitally locks up your foil stamping and or embossing dies from your digital print file onto your honeycomb. And, the user friendly Die-Coordinator has the ability to lock up various press sizes from small presses up to 60″ presses. It is the proven system for the cosmetic packaging, greeting card, book component, label, tobacco, and premium wine and spirits industries and more.
DGM will present the Die Co-Ordinator, digital hot foil and embossing off-line die lockup system and its full range of Foildex® Cold Foil Indexing, UV Casting "Cast and Cure", High Speed Hot Foil Stamping, Embossing, Die Cutting and Blanking machinery at Graph Expo '14 in Chicago.
To post a comment Log In or Become a Member, doing so is simple and free