ATI Decorative Laminates completes installation of second Colter & Peterson cutter
Friday, August 29, 2014
Press release from the issuing company
Paterson, NJ – With commercial business rebounding and strong demand from the DIY arena, business continues to rapidly expand at ATI Decorative Laminates. Needing larger equipment to cut their materials, they completed installation of a second Lawson 110' paper cutter with Microcut® from Colter & Peterson in late July.
A long-time client of C&P, ATI is the leader in innovative laminate surfaces for the hospitality, contract and retail markets. Based in Greensboro, North Carolina, ATI designs and manufactures wall panels, ceiling tiles, backsplashes and trims in every substrate from thermoplastics and FRP to glass and wood.
The first Lawson unit began work at ATI last November. A combination of past history with C&P, good results and high demand led to the need for the second cutter. Chris Moore, the company's vice president of manufacturing, said he had plenty of work for the machine as soon as it was up and running.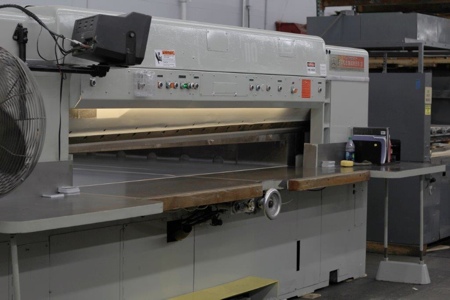 "Our business is expanding really quickly and we needed the second Lawson for increased production and future needs. We're using them to do the rough cut outs and trim the edges off the 4 x 8 plastic VacuForm laminate sheets," remarked Moore, who started working at ATI 27 years ago and manages the 70,000 square-foot, state-of-the-art facility.
"We've added quite a few new programs. Many require using thermoform plastic and other substrates with two- and three-dimensional designs," said Moore, referencing the MirroFlex 3D thermoform laminate wall panels. Another product, FusionTech, fuses colors or an image directly into substrates such as metal, wood and fiberglass reinforced plastic.
Prior to putting the Lawson units to work, he relied on veneer cutters to slice through the 96" sheets. With Microcut equipped on each machine, Moore indicated the Lawsons deliver a more precise, measured cut. In fact, the automated Microcut program delivers an accurate cut within 1/64of an inch and can improve productivity by as much as 50% for a fraction of what a new machine would cost.
"The backgauge control provided by the Microcut is very effective and a good way to retrofit paper cutters. We have it on all but one of our 12 cutters," informed Moore, whose machines range in size from 52-110". All 12 are used five days a week for at least one, 8-hour shift, and at other times for a second or third shift.
His oldest cutters are POLARs and the reason why Moore began a relationship with C&P. After calling on them for hard-to-find parts to repair the machines and satisfied with the results, he was impressed with additional troubleshooting capabilities they performed to keep his machines operating. That led to purchasing a 61" POLAR from C&P seven years ago, a decision he doesn't regret.
"ATI's product line keeps expanding and we're going to need greater capability. The Lawson cutters have performed very well and are very precise. They've removed a lot of potential headaches and with Microcut, they save us a lot of time."
To post a comment Log In or Become a Member, doing so is simple and free