Premier Paper customers enjoy a 'Day to Remember' with Multi promotion
Friday, August 22, 2014
Press release from the issuing company
The Premier Paper Group, the UK's largest independent paper merchant with a nationwide network of regional stock holding branches, recently staged a 'Day to Remember' customer experience day, as part of its Multi range of papers reward celebration.
The event was held on 3rd July, with customers and sales representatives from each branch participating in a day on the Solent in high-performance boats, jet-ski's and yachts, before enjoying an overnight stay at a hotel in the New Forest.
The Multi range of papers is produced at Stora Enso's ground-breaking, environmentally friendly Nymolla integrated mill in Sweden, where pulp and paper is produced on the same site minimising the impact of distribution on the environment. In addition the surplus heat from the mill supplies the district heating network (around 3,000 homes). Thereby providing fresh air, cleaner water and sustainable energy, underlining that Multi is so much more than just paper!
The Multi promotion period ran from May-June 2014, with customers who ordered any products from the Multi range of papers between May-June 2014 being in with a chance of joining Premier Paper to enjoy the salty sea air and take to the waters for a day to remember experience!
The top Multi customer from each branch, along with their respective sales representative, were then invited to an exhilarating day on the Solent where they got to experience first-hand the thrill and delight of high-performance boats.
The day's activities commenced with breakfast on board The Princess Caroline, known as 'the Solent's favourite party boat', and the ultimate mother ship cruiser, which was the base for all activities on the day with on-board dining provided throughout for the guests.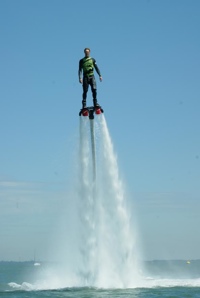 Customers then participated a in a wide and exciting range of activities throughout the day, including; A hands on and exciting experience sailing a 54 foot Yacht, cutting through the waves with a Jet Ski experience, Reaching speeds up to 50mph on a high performance Scorpion RIB, Fly boarding – something different, defying gravity on a fly board aquatic jet pack. A Fly board is a personal watercraft, which allows propulsion both underwater, and in the air! Riders stand on the board which is connected via a long hose to a watercraft. Riders are then able to fly up to 9 meters in the air or dive headfirst into the water.
All participants then enjoyed a fantastic lunch on board Princess Caroline followed by more activities throughout the afternoon.
The day's activities were rounded off at 5pm, followed by dinner and an overnight stay at the Balmer Lawn Hotel in the New Forest.
Commenting on the fabulous promotion and day's activities, Dave Jones, Group Marketing Director at Premier Paper Group, stated, "We gave customers a real 'Day to Remember' experience, and one we hope they won't forget, thanks to the Multi promotion. It was a great day, and exhilarating from start to finish!"
The Premier Paper Group is the UK's leading independent paper merchant and through its business divisions and nationwide branch network, offers a great choice of products and services.
Equipped with specialist knowledge and extensive experience, the Premier business divisions offer a high level of guidance and advice, specifically tailored to each market sector.
Premier Paper has 24,000 tonnes of paper held throughout its branch network, offering some 5,500 different product items, from many of the world's leading paper manufacturers, including the UK market's widest selection of media for digital printing.
The Premier Paper Group endeavours to be an integral and valuable part of its customers' business providing first class services, sharing its extensive knowledge and information, offering advice and a choice of quality products.
To post a comment Log In or Become a Member, doing so is simple and free