Lower-priced Mimaki from i-Sub Digital even better value with free Digi-Foil system
Friday, August 22, 2014
Press release from the issuing company
KETTERING, UK - The Mimaki UJF-3042HG now has a new, even more affordable price: £24,995, down from £29,995. When purchased from print specialist i-Sub Digital the desktop printer is even better value as it comes complete with the exclusive Digi-Foil digital hot foiling system.
The Mimaki UJF-3042HG is a variation on the UJF-3042 but offering higher head gap (HG) to accommodate substrates up to 150mm thick, making it ideal for personalisation, signage, trophies and packaging mock-ups. The Digi-Foil system, available exclusively from i-Sub Digital, combines the Mimaki UJF-3042HG with a heated applicator to produce hot foiling effects digitally, creating a traditional foil appearance with a fraction of the time, effort and waste involved.
A recent buyer of the Mimaki UJF-3042HG with Digi-Foil is London-based Creative Signs, who saw the system at Sign and Digital UK this year. Proprietor Daryl Barrett comments: "Its functions are complementary to what I'm currently doing and offer new options. Foiling can be difficult with traditional processes but this system makes it easier to create amazing products such as packaging prototypes and personalisation onto virtually anything."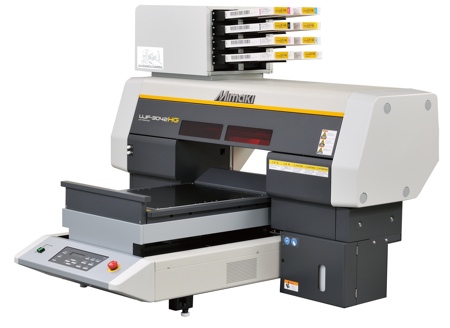 "The Mimaki UJF-3042HG is a brilliant addition to any print room – it offers a whole range of possibilities for materials and applications," says Andy Spreag, Director, i-Sub Digital. "With its new lower price and the complimentary Digi-Foil system it's an even better buy for businesses considering diversification."
To post a comment Log In or Become a Member, doing so is simple and free