New Standard Horizon RD-4055 Rotary Die Cutter Selected As a 2014 MUST SEE 'EMS Award Winner
Tuesday, August 19, 2014
Press release from the issuing company
Feeding, die-cutting, and separating achieved in one pass.
ANDOVER, MA – The New Standard Horizon RD-4055 Die Cutter has been selected as a 2014 MUST SEE 'EMS Award Winner, and will be premiered at Graph Expo in Chicago, September 28 – October 1 in Standard Booth 1923. MUST SEE 'EMS products and technologies are chosen by a panel of industry experts, and they represent the most compelling advances in 11 categories spanning the entire graphic communications industry. "Every year, the MUST SEE 'EMS competition is one of the highlights of the GRAPH EXPO and PRINT shows," says Ralph Nappi, President of the Graphic Arts Show Company (GASC). "This year is certainly no exception with exciting new technologies and innovative advances in each category and industry segment."
The RD-4055 creases, perforates, slits, hole punches and round corners various substrates up to 0.019" (die-cutting only) thickness for digital and offset printed sheets. Feeding, die-cutting, and separating are achieved in one pass at a speed up to 6,000 cycles per hour. According to George Vergilis, Director of Sales, Standard Finishing Systems, "A uniquely designed servo motor-controlled 'Repeat Register' feature allows multiple-up applications from single-up die to minimize die cost." Vergilis added "It's simple and easy operation reduces costly labor steps and increases productivity…plus there are no steel rule or mechanical dies."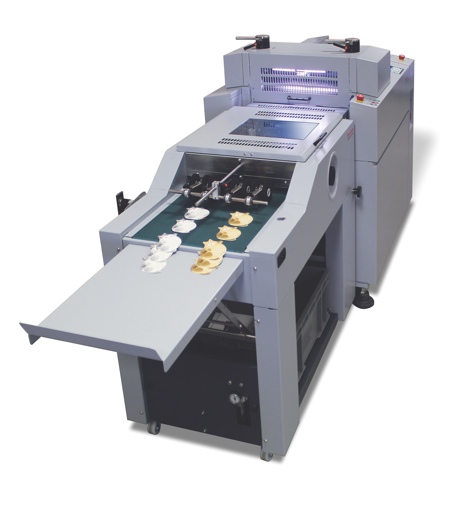 With the new RD-4055, both set-up and operation can be done through the intuitive touch screen. After setting the upper and lower die, the RD-4055 can be set up by simply inputting sheet size and product size. The graphical illustrations on the screen are simple and easy to understand.
Die-Cut, Kiss-Cut, and Crease
The RD-4055 Die Cutter's rigid magnetic upper roller and a solid lower anvil roller ensure the highest quality die-cutting. Die-cutting and kiss-cutting can be performed simultaneously with two different blade heights which make the RD-4055 ideal for producing labels and stickers. Creasing to avoid image cracking makes it a perfect choice for boxes, pocket folders and greeting cards which require additional folding after die-cutting.
Finished products are delivered on the motorized conveyor. Intermittent conveyor movement maximizes the continuous operation in a small space and gap can be adjusted depending upon the size of the product for easy handling. An optional SFC-4055 Trim Waste Separator removes trim waste from the finished product and delivers it to a waste bin.
To post a comment Log In or Become a Member, doing so is simple and free