New Color-Logic Map Shows Certified Printers
Monday, August 18, 2014
Press release from the issuing company
West Chester, Ohio - A new, user-friendly map on the Color-Logic website--www.color-logic.com--enables graphic designers and brand managers to quickly locate and identify certified Color-Logic printers. The map shows licensed Color-Logic printers around the world and indicates the print process each certified Color-Logic printer uses-including offset lithography, flexography, digital printing, inkjet, and screen printing.
Discussing the new map, Color-Logic Director of Operations and eCommerce Dave Bowden said: "A click of the mouse at www.color-logic.com/certified_licensedprinters/ provides contact information for Certified Premier Color-Logic printers around the world. These printers have submitted complex test charts to Color-Logic indicating their ability to use the Color-Logic Process Metallic Color System. Using the map, brand managers, advertising agencies and design firms can contact Certified Premier Color-Logic printers to obtain the Color-Logic Design Suite Adobe plug-in for US$200, and the Color-Logic FX-Viewer plug-in for US$400--everything needed to create striking decorative effects and metallics. Instructional videos are available on the Color-Logic website."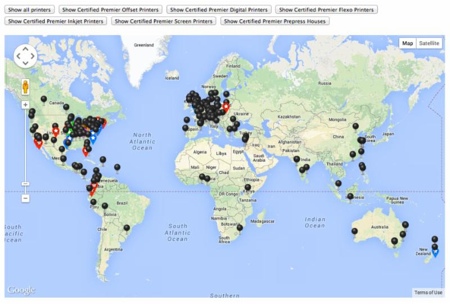 Developed for brand managers, product managers, corporations and advertising agencies, the Process Metallic Color System gives licensees the ability to differentiate themselves and their clients from the competition by simplifying the design and print production process and implementing eye-catching decorative effects into their branded products and associated collateral. The Color-Logic system is compatible with offset, inkjet, flexography, digital presses, screen printing, and gravure processes. It is ideal for packaging, pouches, direct mail, point-of-purchase material, signage, post cards, literature, booklets, labels, shrink sleeves, calendars and much more.
To post a comment Log In or Become a Member, doing so is simple and free