QuadTech appoints new Sales Manager for Austria, Germany and Switzerland
Thursday, August 07, 2014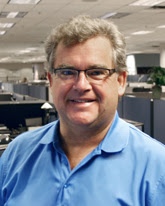 Sussex, Wisconsin - QuadTech announces the appointment of Mr. Kai Pistorius as Sales Manager for Austria, Germany and Switzerland. Managing direct sales of QuadTech's automated press controls for packaging, commercial and newspaper printers, Kai will also support QuadTech agents in Poland, Czech Republic, Slovakia, Hungary and Liechtenstein.
Utilizing his first-hand knowledge of production workflows and the regional markets, Kai replaces QuadTech's recently promoted Market Manager for Packaging, Stephan Doppelhammer.
"The newspaper and commercial print markets in the region have seen years of increasing pressure on their profit margins," Kai Pistorius noted. "Advanced automation to reduce labor costs, improve print quality and significantly reduce makeready is the best path for printers to survive and thrive in such a competitive environment. I'm delighted to represent the leading innovator of color and inspection technology in the world."
Additionally, the worldwide packaging sector is undergoing significant growth and change. The demand for shorter and shorter print runs, in combination with increasing price and quality market pressure, is reshaping the packaging business. The necessity to deliver 100% defect-free output means that it has never been more important for Western and Central European printers to invest in color control and 100% inspection systems. This is to not only satisfy the more demanding expectations of brand owners, but to compete against growing competition and to provide quantifiable proof of achieved quality standards.
Kai continues: "Today's most profitable print operations invest in high quality presses and process equipment to achieve higher productivity yields at lower costs. These are all attractive benefits for multinational companies, constantly looking for ways to reduce their expenditure and speed up product to market. QuadTech's portfolio of market-leading technology is ideally placed to maximize efficiency by supplying customized solutions. QuadTech solutions are offering printers innovative ways to reduce waste, labor costs, and time-and providing consistently high print quality from press to press and plant to plant."
With 25 years of industry experience, Kai comes to QuadTech from Cerutti, where he was Sales Manager for flexo & gravure packaging. He previously held a variety of sales and engineering positions, working for other leading industry suppliers including Praxair and Eltromat.
Stephan Doppelhammer, Market Manager for Packaging, comments, "I have worked closely with Kai for the last three months and can already see that he will be a great asset to the business, and more importantly-to our customers. His vast experience within the industry and local relationships in the region will enable us to expand our presence and depth of service in Western and Central Europe."