Elephant Print and Display invests in Epson SureColor Super Printer
Wednesday, August 06, 2014
Press release from the issuing company
East Sussex-based digital print company Elephant Print and Display, has invested in a new Epson SureColor SC-S50600, which will help boost the company's industrial large format printing services.
The new machine will also complement Elephant's existing large format equipment of a 60" HP Designjet Z6100.
Designed to deliver a very high level of efficiency, the new Epson SureColor SC-S50600 uses two Thin Film Piezo printheads, running two sets of CMYK ink simultaneously, to print at speeds in excess of 51m²/hour. A built-in dryer to further boost productivity ensures that prints are ready quickly. The Epson SureColor SC-S50600 is capable of producing everything from posters and signs to vehicle wraps and is a reliable and cost-effective machine to print on vinyl, canvas, clear film, photographic paper as well as a range of popular banner substrates up to 64 inches wide.
Speaking about the new investment, Managing Director of Elephant Print and Display, Jason Gadd, stated, "What we really liked about this machine was the print quality, which is excellent. It also provides us with the ability to produce durable large format work onto a wider range of materials. We have already produced work using digital wallpaper and also some magnetic vinyl's for vehicles which is a new area for us."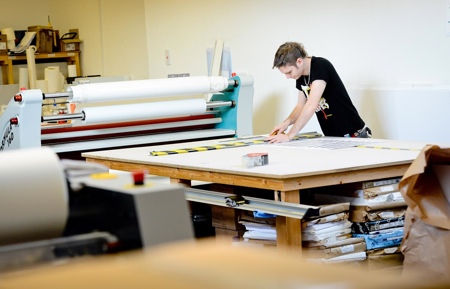 Jason added, "During the past year we have also been making paper over board products utilising the skills of our finishing team. Some of the larger binders and covers have been printed using our large format inkjet machines and the quality is superb, ideal for shorter runs."
Established in 2002, Elephant produces work for a wide range of mainly B2B customers and has full in-house finishing facilities at its premises near Lewes, East Sussex. The company operates an Indigo Digital Press and a range of finishing for both large and small format print work. As part of its business philosophy, Elephant uses environmental responsibility as a factor in procurement, energy usage and waste minimisation, and where possible advises its client to choose environmentally friendly products such as FSC certified papers.
Elephant Print and Display services a mainly business orientated customer base, built up of design and marketing agencies, local authorities, other print companies and freelance graphic designers.
Recent projects have included check-in desk graphics for an airlines at two major UK airports as well as a range of hanging banners produced for a number of libraries, which were printed onto a 100% polyester textile.
To post a comment Log In or Become a Member, doing so is simple and free