rudolf reproflex Increases Corrugated Postprint Quality with nyloflex® NExT Exposure
Monday, August 04, 2014
Press release from the issuing company
Flint Group's exposure technology reduces fluting effect
In 1986, Andreas Rudolf, together with just five employees, founded a company in Goslar, Germany, to specialise in the processing of flexo printing plates. The business became so successful that new employees were steadily hired in the following years. In 1992, a second site was opened in Leipzig, Germany, and today, about 130 staff members are employed at the two sites. rudolf reproflex GmbH aims to offer innovation and competence as a packaging agency. Thus, the company relies on innovative ideas, the know-how of a highly qualified staff and an excellent range of high-tech equipment.
rudolf reproflex develops high quality pre-press products for flexo, as well as offset printing, for all of the primary application segments, including corrugated preprint and postprint, foils, labels and heavy duty sacks, just to name a few. From the individual packaging concept up to a complex workflow solution – customers can always expect the highest quality products and comprehensive service. This concept proves to be effective, as rudolf reproflex is one of the leading specialty agencies in the international packaging market.
One of the company's keys to success is staying optimally equipped with the latest technology. Especially in corrugated postprint, flat top dots and optimised surface screening play more and more of an important role - this is why deciding on the right technology is crucial for obtaining the highest quality. As printing plates produced with the nyloflex® NExT exposure technology show a significant improvement in fluting during printing, rudolf reproflex decided to acquire such an exposure from Flint Group.
The nyloflex® NExT exposure technology utilises a high intensity UV-A LED light source to conduct rapid crosslinking of the photopolymer surface before oxygen inhibition can occur, resulting in a flat top dot structure on the printing plate and a virtual 1:1 image reproduction from the digital file to the finished plate. This technology does not require any additional consumable items or steps; additionally, it can easily be incorporated into the existing digital workflow. The high level of UV emission leads to a significant improvement in the reproduction of the fine relief elements. When combined with high resolution surface screening, the resulting surface texture of the flat top dots provides an optimal surface to enhance ink laydown, ink density, and consistency in printing. In flexible packaging, printing plates exposed with this technology allow excellent ink transfer, particularly in solids. In corrugated printing, fluting will considerably be reduced as the LED exposure allows a better control of the relief profile. Additionally, the nyloflex® NExT technology provides significantly improved reproduction quality and long-term stability.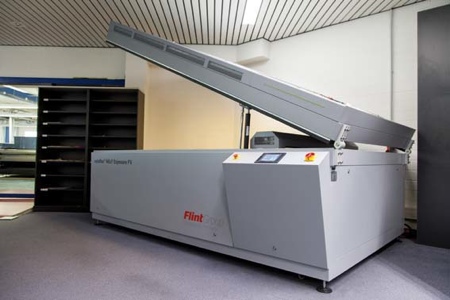 "Our company and Flint Group have a long-standing and close working relationship", says Maik Gottschlich, head of the printing plates department at rudolf reproflex, "we are always very satisfied with the cooperation. Recently, flat top dots became an important issue in the market, and with the nyloflex® NExT exposure technology, Flint Group provides the opportunity to achieve a highly accurate reproduction in corrugated postprint. We have also been convinced by the many positive characteristics of the exposure – the temperature control of the exposure bed, for example, enables better dimensional stability and repeatability. Additionally, the device could be implemented in our digital workflow without any problems."
To post a comment Log In or Become a Member, doing so is simple and free