FASTSIGNS® Restores Beloved Vintage Guitar Sign
Thursday, July 31, 2014
Press release from the issuing company
CARROLLTON, Texas - While many businesses reinvent their brands, some companies focus instead on their roots and shine a light on their company's history. This was the case for Erie, Pennsylvania's World of Music and their well-known guitar sign.
As winners of the 2013 FASTSIGNS® MetamorphoSIGN makeover contest, World of Music met with FASTSIGNS to explain the history behind their sign. Discovered in a junkyard by World of Music founder, Dick Bulling, the guitar sign has been a fixture at the music store for over four decades. Although Bulling passed away in 1997, World of Music has remained a family-owned and operated business. His granddaughter Amanda Karns, World of Music's Marketing Manager, started a "save our guitar" campaign to update and refurbish the weathered sign after decades of withstanding the elements.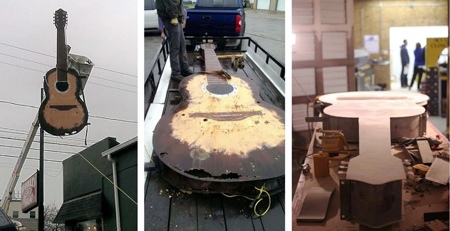 "The guitar sign is a universal symbol of music and people know what it means," Karns explained. "It's become an Erie landmark and a big part of who we are, and that makes it special. We hoped the sign could be repaired and brought back to life."
As part of the music store's visual communications makeover, the team at FASTSIGNS of Eriegave the guitar new life. FASTSIGNS repaired the rusted sections, replaced the neon components and gave the sign fresh paint and vinyl. The guitar sign was ready to return to its place above World of Music. As part of the makeover provided, the team at FASTSIGNS also installed external wall graphics and new channel letters for the music store.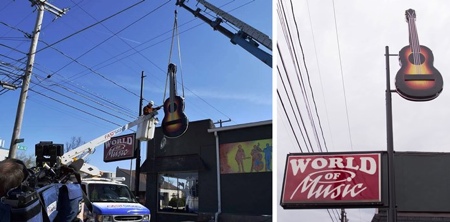 "The community is proud of the reconditioned sign - almost everyday someone tells us how much they love the work done to the guitar," said Karnes. "The sign makeover has meant the world to our family. The day I saw it light up again was one of the best days of my life."
To post a comment Log In or Become a Member, doing so is simple and free