Samson Druck Setting New Standards with KODAK SONORA XP Plate supplied by manroland Österreich
Wednesday, July 30, 2014
Press release from the issuing company
EYSINS, SWITZERLAND – The small town of St. Margarethen in the Austrian state of Salzburg is home to a company with national and international ambitions. Samson Druck GmbH has established a successful presence in several markets thanks to its full-service offering and a relentless focus on quality. All prepress, printing, finishing and print handling activities, including binding, lettershop tasks and a clever mail order service, are carried out in-house. The company also boasts dynamic warehouse and delivery logistics. Customers from all over Austria and Europe – primarily in Switzerland and Britain – are eager to use these services. It is an owner-managed company with 100 employees and an annual turnover of EUR 14 million, with a customer base including many international corporations. Working on their behalf, Samson Druck delivers its graphical products throughout Europe and the world.
60,000 square metres process-free
Offset sheet printing takes pride of place in Samson Druck's production facilities, dominated by three manroland machines in 3B format: one ten-colour machine and two eight-colour machines with dispersion varnishing. A four-colour model with sheet format 36 x 52 cm (14.17 x 20.47 inches) brings the number of print units in the three-level offset area to thirty. This was the production capacity level when the KODAK SONORA XP Process Free Plate was introduced in March 2014.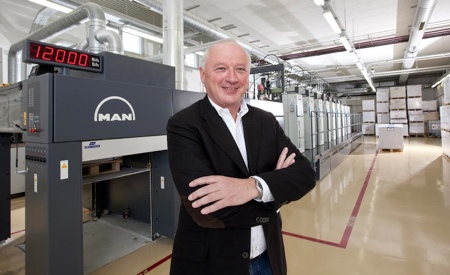 There are various reasons why Samson Druck, with an annual printing plate requirement of about 60,000 square metres, made the change from conventional processing to the SONORA XP. "Eliminating the plate processing machines meant we could improve the efficiency of our prepress workflows. Converting to SONORA XP has also improved the stability and quality of plate production because fluctuations in chemical processing are now a thing of the past," says Gerhard Aichhorn, owner and manager of the printing company. "The change also proves that we mean what we say about green production. The production process no longer needs to consume electricity, water, developer, regenerate and gum, and there is no more machine cleaning and chemicals that have to be disposed of."
Talking about the decision to use the SONORA XP Plate, Gerhard Aichhorn adds: "This product was an obvious choice because, in our opinion, Kodak is a pioneer in process-free plates. Our experience of Kodak's workflow technology and computer-to-plate technology, as well as manroland Österreich's customer care, has also been very positive."
Environmental issues have been very important to Samson Druck for years. There has been an increased demand among customers for sustainable print production methods, which can be met with process-free plates. Samson Druck also offers climate-neutral printing, and has managed to reduce energy consumption thanks to technical heat recovery solutions. The company is FSC and PEFC certified and is entitled to bear the Austrian Ecolabel, which is awarded to companies that manufacture and do business in a sustainable way. In April, the Austrian Republic honoured Samson Druck with the Austrian coat of arms in recognition of its pioneering contribution to the sector.
Simplified print form production with high performance
It is crucial for the print room to receive a large number of plates on time –there are several print units, production is round-the-clock and the average print run is 9,000 sheets. Relatively few large print runs are offset by a very large number of jobs with 1,500 to 2,000 sheets. The prepress department does this through fully automatic plate imaging in two thermal CTP systems. Both of these systems are controlled by the KODAK PRINERGY CONNECT Workflow (version 6), which also supplies output data. Samson Druck also uses another CTP machine as well as a KODAK MAGNUS Q800 Platesetter (X-Speed version). An automatic pallet loader takes the plate to the platesetter directly from a pallet, which can hold up to 600 plates. In this configuration, the MAGNUS Q800 achieves a throughput of 37 KODAK SONORA XP Process Free Plates, measuring 785 x 1,040 mm (30.90 x 40.94 inches), per hour. 95% of all plates processed in-house are in this format, which is the format required by the manroland print machines.
Kodak's Press Ready technology is the reason why the plate is processed so quickly in the prepress department and why printing can start so easily. Thermal imaging in the CTP system causes cross-linking of the negative-working polymer coating of the SONORA XP Plate. When the printer warms up, the areas of the polymer coating that have not been imaged after initial wetting are removed with the tack of the printing ink and transported out of the machine with the ink on the first few sheets.
Part of the reason why Samson Druck found it so easy to switch to the process-free plate is that there was no need to make any changes to the inks, wetting agents or additives. The machine personnel also received training from a Kodak media specialist and from manroland Österreich before the change happened and when the new plates were first put into use. In terms of consistency in high-volume runs and tone value reproduction in printing, the SONORA XP Plate meets the company's requirements – it works with screen resolutions up to 120 L/cm (300 lpi) and 20 µm FM screening. There are no signs of wear and tear even in those rare print runs of 100,000 sheets, so the plate covers the entire range of jobs. "The SONORA XP Plate helps us improve our green credentials in print production without cutting corners in terms of print quality or performance," concludes Gerhard Aichhorn.
To post a comment Log In or Become a Member, doing so is simple and free