Warren Undergoes Subtle Rebrand Following Acquisition and Expansion
Monday, July 28, 2014
Press release from the issuing company
Warren, the UK's leading independent cartonboard and graphical board stockist, has undergone a subtle change to its corporate identity to reflect the additional divisions within its business following a seven-figure sum investment.
The rebrand provides the company with a slightly revised logo to encompass all three main areas of its business: board, paper and converting.
The announcement follows Warren's recent major acquisition of the board converting machinery from Reno De Medici UK'S Wednesbury plant, which was confirmed earlier this year. This investment, together with Warren's further expansion of its business into the stocking of paper products, will complement its board sales.
In addition, a new converting facility is also now fully operational and functioning from 42,000 sq. ft. premises in West Bromwich, allowing the paper business to expand its coverage of the Midlands region and providing further coverage for the UK paper and board sector.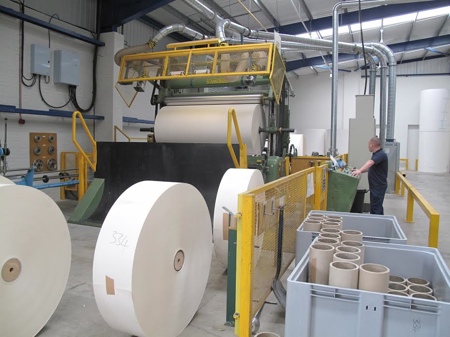 Warren has also announced the completion of a £500,000 contract from a London printer, together with another of significant value that has yet to be confirmed. This follows discussions by Warren with a number of its commercial print clients, advising them of the recent developments and the new facilities that are now available.
As a result, turnover this year for the fast-growing business is set to top £20m, with sales currently up 21% on the previous year's figures, prior to the acquisition and expansion into the paper sector.
Speaking on the rebrand and investment/expansion, Kieran Ferguson, Warren's Managing Director, stated, "Warren's brand identity and the high service levels associated with it are well recognised within the trade; therefore, we didn't want to reinvent the wheel when making the change to our logo. We wanted to identify the new divisions within our business without detracting from our well-established brand – we think we've achieved this. Customers can now see quite clearly the enhanced range of products and services available to them."
Further expansion of the business is also planned, with additional staff and facilities forming part of Warren's ongoing development plans.
With a 37-year trading history and a main facility in 116,000 sq. ft. premises in Glenfield, Leicestershire, Warren employs a team of around 30 staff with combined industry experience of over 300 years. The newly formed Warren Converters operates from 42,000 sq. ft. premises in West Bromwich and, in addition to its reel and pallet stock operation, offers reel-to-sheet cutting, rewinding and guillotining.
To post a comment Log In or Become a Member, doing so is simple and free