Hopkins Printing Expands Wide Format Efforts with Agfa
Thursday, July 24, 2014
Press release from the issuing company
COLUMBUS, OH - Hopkins Printing has purchased a new wide format flatbed printer to add to its wide format capabilities. The new Agfa Jeti Titan HS is housed in Hopkins' recently moved and renovated wide format area. When discussing the benefits of the Agfa Titan, Jim Hopkins, CEO, responded, "The speed and capability of this new printer will allow us to better serve existing customers and offer products to a new range of customers."
The Agfa Jeti Titan HS offers six ink colors and opaque white, allowing Hopkins to produce signage up to 5' x 10' at a dpi of 1200 x 720. The Titan also offers Hopkins the opportunity to print on a new series of substrates including clear glass, clear plastics, foamcore and white plastics.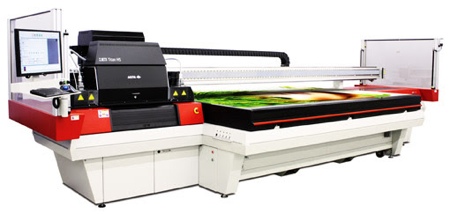 This purchase compliments Hopkins' current wide format equipment, new skid wrapper, a new digital cutting system and a new digital folding system. Company president, Roy Waterhouse notes, "Our customers continue to want great offset printing with the ability to also obtain other services like digital printing and wide format options; we are happy to be able to be that source for them."
To post a comment Log In or Become a Member, doing so is simple and free