Häuser KG Installs Kodak Nexpress SX3300
Wednesday, July 23, 2014
Press release from the issuing company
EYSINS, SWITZERLAND – At the Häuser KG letterpress and offset print works, which produces products on nine sheet offset presses equipped with a total of 56 imaging units and supporting formats up to 750 x 1,050 mm (29.5 x 41.3 inches), digital operations are now entrusted to a KODAK NEXPRESS SX3300 Digital Production Color Press. The family-run business, which is based in Cologne, operates the portal DruckDiscount24.de and is one of the leading Internet printers in Germany.
Currently, Häuser KG achieves 80% of its sales through its web-to-print business, whilst maintaining its character as a traditional printer offering direct support to customers from a range of sectors. At this full-range printworks, which has a workforce of over 200 employees, all orders booked are processed in-house. This helps the company to achieve the demanding goals it has set itself and offer outstanding print quality, short delivery times and attractive prices.
Full online product range
Visitors to the DruckDiscount24.de online shop are greeted with a wide portfolio of print products from which customers can make their own individual choice. Many of the products on offer are produced in digital print by a KODAK NEXPRESS SX3300 Digital Production Color Press commissioned in late 2011 to complement the company's offset printing capacities for low-volume jobs. "The KODAK NEXPRESS SX3300 Press has allowed us to extend our range of services in the small-run sector. Runs of up to 200 DIN A3 sheets can be printed quickly and economically using the digital press," explains Heiko Mazur, owner and Managing Director of Häuser KG. One major advantage making the sheet-fed digital printing press suitable for a huge variety of jobs is its ability to work with a wide range of papers and boards with grammages of between 60 and 350 g/m2.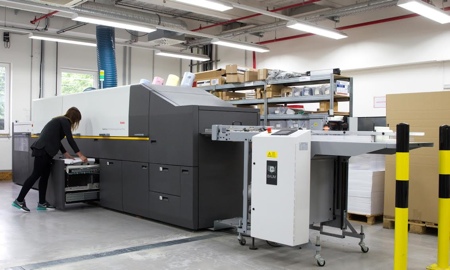 Versatile colours with golden highlights
In addition, the Cologne-based printer makes extensive use of various inline finishing options that are available for the fifth imaging unit on KODAK NEXPRESS Press machines. One of the latest highlights, the KODAK NEXPRESS Gold Solution was installed at the print service provider's premises in the middle of 2013. The use of gold as a fifth colour makes it possible to achieve extremely attractive digital printing effects on paper substrates. "We chose gold in order to differentiate ourselves from our competitors who are only able to offer standard four-colour digital printing," explains Heiko Mazur. "With gold as an option, we can give our customers significant added value. The appearance of the printed products is enhanced to make them really eye-catching. This is now possible at a reasonable price, even in the case of smaller runs. In the past, gold was achievable only with foil stamping or offset printing, and both of these solutions are relatively expensive for short runs."
The Gold Dry Ink creates a sparkling effect, similar to that which can be achieved using metallic inks in offset printing. What is more, the pigments used to print the colour of the precious metal using digital technology are completely metal-free. The reproduction of authentic gold hues in addition to CMYK is just one variant. As well as using gold on its own, combining the KODAK NEXPRESS Gold Dry Ink with dot percentages of chromatic colours permits the reproduction of certain metallic colour tints. "Most customers use gold for rules, texts and solids. Many also include it as a special colour in graphics. Gold is particularly effective on coated papers. This option is suitable for all types of greetings cards and postcards, invitations, business cards, certificates, folders and flyers," testifies Heiko Mazur. It takes the operator less than ten minutes to convert the digital printing machine for production using gold. All he or she needs to do is replace the dry ink and the developer station in the fifth imaging unit.
Other finishing effects for added value in the portfolio
Naturally, the Cologne-based printer also uses the KODAK NEXPRESS Fifth Imaging Unit Solutions for other extras, which customers can choose as added options if they wish – for example for Dimensional Printing. This process highlights text, graphical elements or items in illustrations by means of a three-dimensional visual and tactile effect. In addition, under the banner "UV Light Colour", Häuser KG offers the option of enhancing digital print products with the reddish-pink fluorescent KODAK NEXPRESS Red Fluorescing Dry Ink. In normal ambient light, this ink is invisible on coloured printed products. However, when viewed in UV lighting – e.g. the light emitted by "black light lamps" – it appears in fluorescent reddish-pink.
Large format for greater product variety in digital printing
Häuser KG has equipped its KODAK NEXPRESS SX3300 Digital Production Color Press with an ultra-long format feeder. This offers a huge number of additional formats and extends production capabilities. Using this optional equipment, the machine is able to print sheets up to 356 x 910 mm (14.0 x 35.8 inches). Popular products, such as eight-page DIN A4 brochure covers, double gate fold and letterfold products, can be sheet fed for digital printing using this feeder.
Overall, the gold finishing capabilities and other inline application solutions for the KODAK NEXPRESS SX3300's Fifth Imaging Unit help the print service provider to produce value-added print products for increasing numbers of customers who, in turn, benefit from the positive impact this has on their own sales.
To post a comment Log In or Become a Member, doing so is simple and free