KBA at Expoprint 2014: Impressive market success in a difficult environment
Wednesday, July 23, 2014
Press release from the issuing company
Expoprint 2014, the largest and most important trade show in Latin America, took place from 16 to 22 July. KBA manned a joint stand at the exhibition in São Paulo together with subsidiary Koenig & Bauer do Brasil and its cooperation partners MBO and AMS.
On a stand measuring 336m² the company presented cutting-edge sheetfed offset technology including the medium-format KBA Rapida 105, which is particularly popular in Asia and Latin America, and modern folding technology from MBO. The KBA stand was full of activity from the moment the trade show opened its doors with visitors flocking to see the print demos. A raft of decision-makers from Brazilian printing firms and print pundits from Argentina, Chile, Uruguay, Peru, Mexico and Columbia all visited the KBA stand.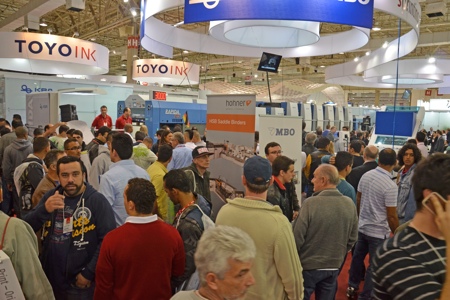 Live print demonstrations were carried out on six-colour press raised by 450mm (17.7in) with coater and delivery extension. It featured semi-automatic plate changers, CleanTronic Impact (combined blanket, impression cylinder and roller washing system), nonstop roller facility in the delivery as well as a board handling package and a maximum output of 16,000sph. The shaftless DriveTronic feeder and inking units which can be uncoupled are unique features from KBA. Colour density was measured by ErgoTronic ColorDrive directly at the press' console.
Rapida 105 and MBO folding systems in operation
The Rapida 105 printed car posters that were very popular with the visitors in Brazil live several times a day, as well as KBA maps of the world, which have also proven to be in great demand. Some of the print samples showed matt-gloss effects using the drip-off technique. Together with dryer manufacturer AMS (Air Motion Systems), KBA presented innovative drying processes, such as HR-UV and LED-UV. This technology was shown recently at a well-attended customer event at the KBA plant in Radebeul. Presentations on workflow solutions and MIS systems were also made. KBA works closely together with Kodak, Optimus, Logica, MBO, Montex, Müller Martini and other technology partners.
The global rollout of the new M80 folder from MBO for flexible finishing continued with the unveiling of this folding machine in Brazil. There are numerous modular add-ons which can be retrofitted after inauguration, such as further buckle plates or patented slitter shaft cassettes. 16-page signatures in A4 format were produced live on the M80 at the trade fair.
First-level vendor in sheetfed offset
Koenig & Bauer do Brasil in São Paulo has developed into a first-level vendor for sheetfed offset presses. The Rapida 105 went to Industria Grafica Sul in Nova Candelária, Brazil, after the trade show. This is the firm's second Rapida 105. A further, nearly identical Rapida 105 is currently being installed at Emibra in Suzano, São Paulo. This is the longstanding KBA user's third Rapida. Brasilgrafica in Alphaville has invested annually in KBA technology since 2012 and in the meantime also has three Rapidas. Brasilgrafica recently received its first large-format press, a Rapida 145. However, this impressive press with seven printing units and two coaters is still unusual in the Brazilian printing industry. The established packaging printer APICE will receive a Rapida 106 that has similar kit and a two-colour Rapida 106 with coater is currently being fired up at Cartondruck Grafica in Blumenau. KBA is anticipating a boost to business over the coming months and years driven by Expoprint.
To post a comment Log In or Become a Member, doing so is simple and free