New KBA Rapida 105 41-Inch Press Set for Delivery To Rand Graphics
Tuesday, July 22, 2014
Press release from the issuing company
Second KBA press with UV and plastic package joins Rapida 205 81-inch press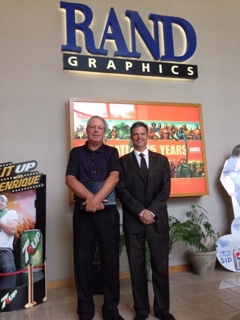 KBA North America announces that Rand Graphics, a Wichita, Kansas print specialist in point-of-purchase applications, will be adding a second KBA press—a new KBA Rapida 105 41-inch six-color press with coater, UV, and a plastics package---to its arsenal. The new press is due for delivery early fall of 2014.
"The key to our success has been the ability to be flexible and offer our customers exactly what they need," says Randy Vautravers, president of Rand Graphics. "What differentiates us is the ability to print on non-standard substrates with a combination of litho, screen and digital presses. We print on plastics, vinyls, rigid vinyls, PRV, PETG, and other unique substrates in addition to conventional papers. Our existing KBA Rapida 205 provides us with the ability to litho print up to 59-inch x 81-inch on a variety of substrates, especially plastic. Seeing the quality and speed of our existing KBA press made it an easy decision for us to add a new 41-inch model for additional work. We're trading in an older non-KBA model for this new KBA Rapida 105 press."
Rand installed its first KBA press---a Rapida 205 five-color 81-inch sheetfed press with coater, the largest press model in the world---in June 2011. That press gave Rand the opportunity to create new work and an opportunity to gain in efficiency, faster throughput, and flexibility while making Rand one of the few printers in the country with the award-winning press, Vautravers noted at the time. Since its installation, the Rapida 205 has provided significant benefits, making Rand much more efficient, significantly reducing its make-ready, increase its speed, reduce spoilage, and allowing the company to produce and output more jobs.
Rand Graphics was founded in 1965 by Ralph Vautravers, who remains the current chairman. The Wichita, Kansas-based firm with 190 employees caters to major retailers, corporations, and ad agencies all across the country. Today the firm operates a litho division and a large format facility measuring 300,000 sq ft in total where it specializes in point-of-purchase applications, including brochures, catalogs, books, postcards, door hangers, and static-cling work.
To post a comment Log In or Become a Member, doing so is simple and free